April through May 21….Be the Dinosaur Exhibition & Dinosaurs Giants of Patagonia Movie - The Science Spectrum is excited to announce the opening of a totally new style of hands-on interactive traveling exhibit, Be the Dinosaur: Life in the Cretaceous. Using technology, this one-of-a-kind exhibit will immerse you in the world of dinosaurs and allows visitors to learn how they lived. Travel back in time to the Cretaceous, find out when and where dinosaurs lived, how they hunted, ate, took care of their young, their biology and discover what the natural world was like in a time long ago. Be the Dinosaur is a groundbreaking fusion of state-of-the-art video game technology and traditional exhibits, featuring full-size dinosaur bones, a paleontology field station, life-like moving animatronic dinosaurs, a Safari Jeep, and more. Through innovative technology, visitors of all ages can enter into the largest and most complex restoration of an extinct ecosystem ever created. Also Featured: Dinosaurs Giants of Patagonia in the OMNI Theater While you're here, you'll also be able to take in the full dinosaur experience by seeing the OMNI film, Dinosaurs: Giants of Patagonia. Explore a time when huge dinosaurs inhabited the world. Fossils of some of the largest dinosaur species ever unearthed come from the region of South America known as Patagonia. The large format film, Dinosaurs: Giants of Patagonia, will bring you up close and personal with these extraordinary creatures that lived before the dawn of man. For additional film information visit, http://www.dinosaurs3dmovie.com/ The OMNI Theater will be showing the 2D film version.

Be the Dinosaur w/Standard Museum:
Adult $12.50....Child (3-12) $10.00
Senior (60+) $10.00
Be the Dinosaur w/OMNI Film:
Adult $12.50....Child (3-12) $10.00
Senior (60+) $10.00
Be the Dinosaur w/ Museum & OMNI
Adult $17.50....Child (3-12) $13.50
Senior (60+) $13.50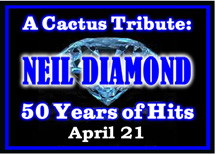 April 21….A Cactus Tribute to Neil Diamond: 50 Years of Hits - One of the most successful solo music careers of all-time - was launched in 1966 with the release of the Neil Diamond song "Solitary Man". Prior to that, his career had centered around writing songs that became hits for others...including "I'm A Believer" for The Monkees. But soon, hits like "Cherry Cherry", "Kentucky Woman" and "Thank the Lord For the Night Time" followed. Through five decades now, Neil Diamond has solidified his place in history as one of the most beloved artists of all time....selling well over 100 million albums and continuing to sell out arenas coast to coast. Join the Cactus as we present our tribute to one of the most popular and enduring artists as we present our tribute to the one and only Neil Diamond in this encore presentation. You'll hear his greatest hits...songs like "I Am...I Said", "Song Sung Blue", "Crunchy Granola Suite" and many more. Vocalists include Kenny Maines, Jason Fellers, Craig Elliott, Jeff Bailey and Amber Pennington. Reserved floor seats $20; standard balcony $15. Purchase tickets by visiting cactustheater.com or call 762-3233. Cactus Theater, 1812 Buddy Holly. Doors at 7 p.m.; show at 7:30.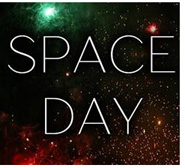 April 22…Science Spectrum Space Day - The public is invited to participate in exciting free hands-on Space Science activities in celebration of Space Day! Space Day activities will be located in the lobby of the Science Spectrum and will include activities not only about Space, but science, math, engineering and technology. Those visiting the Science Spectrum will be able to participate in various "Space Science" hands-on activities, see live Space Demonstrations, attend SpaceBubble planetarium shows, and even learn how Astronauts live, work, and eat in space! Space Day 2017 will feature special guest speaker Arthur Puccetti, retired NASA Mission Control Director for 10 unmanned missions and the Apollo 8, 10 and 12 manned missions as well as a Mission Manager for 14 Space Shuttle missions. Mr. Puccetti is a retired Aerospace Engineer with over 40 years of private corporate and NASA experience. Mr. Puccetti will give a free 45 minute presentation with Q&A from his experiences working at NASA in the OMNI Theater at 12:00 noon. This special presentation will be immediately followed by a special screening of the film The Search for life in Space. in the OMNI Theater at 1:00 pm. Standard ticket rates for OMNI films will apply to this screening. *Free Space Day activities will be located in the lobby. Science Spectrum Museum & OMNI Theater, 2579 S. Loop 289; 11 a.m. to 3 p.m.