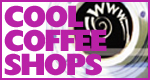 Lubbock has some
great coffee shops!
The list is below ... but these are our favorites!

Sugar Brown's Coffee
4818 50th Street
687-4951
COME IN and TAKE A LOOK AROUND!
Sugar Brown's is a new discovery for me and I've been there several times in the few weeks I've known about it. It's called Sugar Brown's and it's over on 50th between Radio Lab and Mountain Hideway. Marla and Justin, the owners, actually work there and are very nice. It's easy to park, the atmosphere is soothing and "grown up" and the place has a gentle spirit. I like my coffee in a real mug too.
While coffee and "nibbles" are standard, they also have the SWEET ESPRESSO SUNDAE (vanilla ice cream with two smooth shots of espresso topped with whipped cream and cinnamon. yum.)
The music in the evening is free and you can click here to find more info about the musicians. They are a new advertiser with us and we welcome them! If you have a laptop, you can work there too -- they're a WiFi hot spot.


Internet Service provided for free.
----------------------------------------------------------------------------------------
Other Coffee Shops in town ...
Coffee Haus
1401 University Ave.
Lubbock, TX
806 749 5191
Day Break Coffee Roasters
4406 C 19th
4210 82nd St
Lubbock, Texas 79424
806 799 1995
800 658 6694

J & B Coffee
2701 26th St. Plaza Center
Lubbock, Texas 79413
806 796 1114
Starbucks
4402 - 82nd Street
Inside Target, 6064 Brownfield Rd
427 Slide Road
801 University
Lubbock Intl Airport
Stein's Coffee and Sandwich Shop
1406 Avenue Q
744-8413
Sugar Brown's
4818 50th Street
687-4951
The Koffee Kup
2912 Slide Road
Lubbock, TX
806 687 614