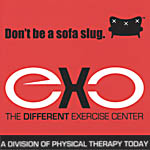 The exercise "arm" of PTT is called EXC
- THE DIFFERENT EXERCISE CENTER.
2431 South Loop 289
771-8010
At EXC, we embrace all people at all levels of activity. You don't have to be flawless here. We just want you to get mobile, to get motivated, and feel comfortable in your own skin.
At EXC, we want you to forget your excuses and to exercise your options.
Our philosophy is simple:
WE WANT TO PROVIDE YOU WITH EXTENSIVE AMENITIES and
EXPERT SERVICE at an excellent price.
Take a look at EXC and see why we are the DIFFERENT EXERCISE CENTER:

x West Texas Showroom for Cybex
(#1 equipment industry-wide
for safety and technique)
x Free-Motion Weights & Free Weights
x Heated Indoor Pool and Hot Tub
x Indoor Walking Track
x Cardio Theater (with 15" monitors)
x Free Fitness Evaluations
x Low Monthly Rates
x Convenient Parking/Easy Access