November 27, 2014
"Happy Thanksgiving!"

THURSDAY Only



November 27….2014 Turkey Trot - 2 Miles and 12K (7.456 Miles) - Chip Timed Races. Minimum ages: 7 yrs for 2 Miles and 16 yrs for 12K. Refer to WTRC's Children's Running Policy for details. Cost: for WTRC members and children 12 and under; non-member; for late registration. Visit http://wtrunning.com/ to register online. Bayer Museum of Agriculture in Mackenzie Park. 1121 Canyon Lake Drive; 8:30 a.m.



THURSDAY through SUNDAY

November 27 – 30 (Repeats December 5-7, 12 -14, 19 -21, 22- 25)….Santa's Land Drive thru Christmas Park in Tahoka - Opening evening is approaching soon. November 27, 28, 29 & 30 we will open at

6:30 and lights will go off at 10 p.m. The Blue Weed Special Train will be at Santa's Land November 27, 28 & 29, train rides start at 7 - 8:30 p.m. to provide rides through the park opening weekend only. Park will open every Friday, Saturday & Sunday (weather permitting) (December 5, 6, 7, 12, 13, 14, 19, 20, & 21 then open December 22, 23, 24, 25. Please check this page (HTTPS://www.Facebook.com/SANTASLAND79373) for times Santa will be present and also for closings due to freezing moisture. We hope you all make plans to visit Santa's Land Drive thru Christmas Park located at S.11th & Ave O (south west corner of town) in Tahoka. For more information call 806-891-1291.


FRIDAY Only

November 28….The Eagles & Bon Jovi Forever: A Cactus Tribute - From LA To New Jersey, The Eagles and Bon Jovi were the greatest of the 70's and 80's decades! Starting the show with The Eagles, you'll hear favorites like "Desperado", "Take It Easy", and "Hotel California". Then in

the high powered 2nd half, you'll be at an arena in the 80's hearing Bon Jovi hits "Livin' On A Prayer", " Bad Medicine", "Wanted Dead Or Alive" and many more! The Cactus Theater combines two of our most popular tribute showcases to form this exciting concert! Starring The Lubbock Texas Rhythm Machine lead by Dustin Garrett with featured singers Amber Pennington, Jeff McCreight, and Jason Fellers will ROCK the house for this "Best Of..." This concert will be one of your all-time favorites! Please contact the box office at 806-762-3233 to reserve tickets. Reserved seating . Cactus Theater,1812 Buddy Holly Avenue; 7:30 p.m.


FRIDAY, SATURDAY and SUNDAY

November 28-30 (Repeats December 5-7; 11-14; 17-23; 26-27)….Polar Express Train Ride - The Polar Express comes to West Texas to recreate all the sights and sounds of the time-honored story. Picture the excitement of children dressed in pajamas with golden tickets clutched in their hands as they board the train and prepare to embark on their journey to the North Pole. The story begins when the Conductors calls "All aboard" and gleefully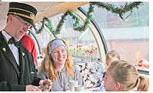 punches everyone's ticket. Little faces will peer out the train's windows as we pull out of the station on our way to the North Pole. Guests will hear the sounds of the motion picture soundtrack as the story reading begins and the book's characters come to life. Dancing chefs will serve hot cocoa and cookies to all riders in a merry fashion as the doubting hobo wanders through the train. The train stops where children will behold the magic of the North Pole from their warm train seats. With a jolly "Ho, ho, ho" Santa waves to everyone and climbs aboard where he will greet each child and present them with the iconic silver sleigh bell - listen carefully, only believers can hear its ringing! Christmas carols will be sung as elves dance along as the journey back to the station begins after a memorable ride that sets the tone for the whole holiday season. Join us in this annual event sure to become one of your family's treasured traditions. Ticket prices vary – For more info, please visit www.westtexaspolarexpressride.com or call 877.726.7245. 103 N. Steck Ave., Wolfforth, Texas.


SATURDAY Only



November 29….Miz Ayn: The Mean Woman Sings with Her Friends - The "Mean Woman" is back!!! Miz Ayn is returning to the Cactus stage, cookin' up the best hot rock and blues this side of the Mississippi! It doesn't get any better than that! Come join Miz Ayn and her fantastically talented friends for a great evening of music and fun! You might even win a free burger from the "Mean Woman Grill" and a night out at the Cactus! Please contact the box office at 806-762-3233 to reserve tickets. Reserved seating . Cactus Theater,1812 Buddy Holly Avenue; 7:30 p.m.


Last Week's Trivia Answer....

The Question: Which blockbuster film is mimicked by the hobo while he's atop the train in the 2004 movie "The Polar Express" ???

Answer: "Titanic"

Winner: Maria R. of Lubbock


Looking Ahead in the Calendar....

December 2…...56th Annual Carol of Lights
December 4…...Fun Club Singles "SOS" Monthly Dinner
December 4-7...6th Annual Community Nativity Exhibit
December 5…..Lubbock Symphony Orchestra Holiday Concert
December 6…..Pancake Breakfast and Craft Fair
December 6…..Annual Greek Pastry Bake Sale
December 6…..Book Signing at Holly Hop Ice Cream Shoppe
December 6…..Holiday Home Tour, 3rd Annual Afterglow
December 7…..Carol of Lights Run
December 7…..David Gaschen Just in Time for Christmas
December 11…."Foxhole Christmas" at Silent Wings Museum
December 13….10th Annual Miracles Christmas Parade



Many more UPCOMING FUN THINGS TO DO are listed on our website...lots further out than the weekly postcard. Click here to go to our CALENDAR OF EVENTS for more info on these activites and MORE>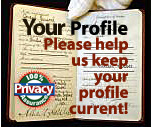 UPDATE YOUR PERSONAL SETTINGS ... see link below Every email you receive from us has an opportunity to change your email, update your address or add in custom profile choices. Be sure your 100% confidential profile is complete. It helps us be of better service to you. Thanks!

To unsubscribe...click on UPDATE YOUR PERSONAL SETTINGS at the same location and choose "No Lists."

If you are having trouble seeing the photos, read our online version
If you are having trouble seeing the photos, read our online version.