September 18, 2014

THURSDAY Only

September 18….SPKF Patient Symposium Empowering Yourself: Take Control of your Kidney Disease - The South Plains Kidney Foundation is having an event for anyone dealing with Kidney Disease, those on dialysis, have family members on dialysis, interested in transplantation or just interested in learning more about kidney disease. Call 806-283-7357 to reserve your place. Prosperity Bank Annex, 15th and Ave. Q; 8:30 a.m. - 3:45 p.m.



September 18….13th Annual Hub City BBQ Cook-Off - It's almost time to find out who has the best barbecue in West Texas. There are over 100 cooking teams in the cook-off serving up delicious brisket, ribs, pork and other meats. This year's headliner is Texas country music artist Bart Crow, with an opening from local musicians in the School of Rock and other local musicians playing some good ol' rock and roll. Tickets are in advance for adults, and at the gate. Tickets are for children 6-10. They can be purchased at the chamber offices, located at 1500 Broadway, or at Select-a-Seat locations. Broadway Avenue between avenues J and O; 5 to 8 p.m.

September 18….Friends of Fogelberg Tribute – Continuing Dan's quest "defeat prostate cancer." Dedicated in memory of Dr. Joe

Arrington. Co-hosts are Dr. Carl Britton M.D. and Junior Vasquez. Entertainers include Kenny Maines, The Attendings, Hat Trick, Bo Garza, Woody Key, David Dale, Cary Banks, Jerry Slater, Mikaela Vasquez and The Friends Band. Tickets are .00 and can be purchased at selectaseatlubbock.com. Proceeds to benefit Covenant Health, Joe Arrington Cancer Center, Research & Treatment Center. Lubbock Memorial Civic Center Theatre, 1501 Mac Davis Lane; 7 p.m.


FRIDAY Only

September 19….2014 West Texas Walk of Fame Inductions - The public is invited to attend the 2014 West Texas Walk of Fame

Inductions of Jay Boy Adams, Diana Dee, Lew Dee, Andy Wilkinson and Jaston Williams. "The West Texas Walk of Fame" honors those individuals who have devoted a significant part of their lives to the development of and/or gained recognition in the promotion or production of the arts, music and/or entertainment and who have a strong affiliation to Lubbock and the West Texas area. Admission is free. Morris "Moe" Turner Banquet Hall at the Lubbock Memorial Civic Center, 1501 Mac Davis Lane; 6 p.m.

September 19….UV Color Splash 5K - The UV Splash Color Dash hosted by CASA is coming to an area near you with a hurricane of neon that will even turn your tears of joy into a tie-dyed movement of bliss and renew your out-look on what fun and life is all about. The money raised from this event will go towards the recruitment, training, and support of volunteer advocates who work with abused and neglected children in foster care. Registration: . For more information visit www.uvsplashcolordash.com. Lubbock Memorial Civic Center, 1501 Mac Davis Lane; registration at 6:30 p.m., race begins at 8:30 p.m.

September 19…. #1 Hits of the '50s, '60s and '70s - From Chubby Checker to the Beatles and on to Elton then everything in between - you'll

hear songs you knew and loved through the decades! There's truly something for everyone in this concert! Come relax in the Cactus Theater, have some snacks/drinks, and love this two hour escape into the music of the 50's, 60's, and 70's! Please call the cactus theater box office at 806-762-3233 to inquire about the special privileges and benefits of balcony box seating. Cactus Theater, 1801 Buddy Holly; 7:30 p.m.


FRIDAY through MONDAY

September 19 - 22….Friends of The Library Fall Book Sale - Once again, the basement of Mahon Library will have more than 100,000

children's books, fiction and nonfiction books, a large selection of "Better Books" and "Best Books," books on tape and CDs, VHS and DVDs, music on vinyl, and other cultural items that will appeal to children, teens and adults of any age. The FOL have kept prices low; regular paperbacks are .50 and regular hard covers are .00. On Friday, members only. You may join at the door ( Family, Student, 0 business). Saturday, Sunday, & Monday the sale is open to the general public. Payment by cash and check only! Mahon Library, 1306- 9th Street; Friday, Saturday: 9 a.m. – 5 p.m., Sunday: 1 -4 p.m., Monday: 3 – 7 p.m.



SATURDAY Only

September 20….Goo Run Lubbock - Join us as we cover runners on our 5k course with our own brand of slimy GOO! Bring out friends, family or come run alone on this unique concept course. Bring out your cheer squad on this run! They will want to be at the start line when we hand out GOO - to help GOO you - the perfect start to a GOO filled race. Visit https://earlysignup.com/GooRunLubbock/ for more information! Mackenzie Parks Wells Fargo Amphitheatre, 413 E Broadway; 7 a.m. - Last Minute Packet Pick Up, 8:45 a.m. The Goo Fun Run 1 Mile Dash, 9 a.m. - The Goo Run 5k Walk / Run Starts.



September 20….Lubbock Heart Walk - Hundreds of individual walkers, as well as community teams from local groups and companies, will be taking steps to improve their heart health while raising funds and awareness for the American Heart Association in its fight against cardiovascular diseases. This year's Heart Walk includes a family-friendly three-mile walk, a health expo, entertainment, kid activities, and more. Participation is free and walkers who raise money are eligible for prizes. For more info, visit www.LubbockHeartWalk.org Texas Tech University Frazier Alumni Pavilion, 600 Boston Ave; Registration: 8 - 9 a.m., walk takes place from 9:30 a.m. - 12 p.m.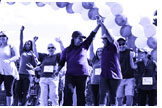 September 20….6th Annual Lubbock Walk to End Lupus Now - This 1.5 mile fun walk is the signature event of the Lupus Foundation of America, Inc. The Walk to End Lupus Now™ events are conducted nationwide by the Lupus Foundation of America and its national network to raise money for lupus research, increase awareness of lupus, and rally public support for those who suffer from its brutal impact. Each year, thousands of people across the country join forces with the Lupus Foundation of America and walk with one unified purpose – to end lupus. For more info or to register, call 469.374.0591 or visit lupuswalk2014.kintera.org. Buddy Holly Recreation Area at Hodges Park, North University Avenue and Canyon Lakes Drive; registration 9 a.m. - walk starts 10 a.m.



September 20….The Lubbock Downtown Farmers Market - Time for the Farmers Market! Through the end of season in October, the market will be open every Saturday. There will be lots of vendors including Sunburst Farms, Crazy Hoe Farms, Harden Farms, Apple Country, Crusty's Wood Fired Pizza, Juicy Lucy's Veggies, Dutch Cheesemaking, Wolf Creek Farms, Pullen Produce, Kelly B Jammin', Simply Decadent Bakery, South Plains Foodbank GRUB Farm , Nancy Hubbard, Honeys Farm Fresh, Holy Cow Beef, and Dessert Flirt.
Visit lubbockdowntownfarmersmarket.com for more info. Depot District, 19th & Buddy Holly Avenue; 9 a.m.- 1 p.m.

September 20….Funky Junk Roundup – Come for this one day shopping extravaganza featuring a unique blend of handcrafted art and crafts, vintage finds & inspiration, one of a kind items, antique décor, rusty-chippy-shabby-reloved and refunked JUNK, bling and glam boutiques, sparkly jewels and fabulous junktiques for your creative soul! Put some JUNK in your trunk y'all! Admission: (children under 12 free). Lubbock Memorial Civic Center, 1501 Mac Davis Lane. Event runs from 10 a.m.- 4 p.m.



September 20….JAB Fest - Josh Abbott Band with special guests Casey Donahew Band, Kyle Park, William Clark Green, Sam Riggs and Dalton Domino. General admission tickets are .00. For more information or to purchase tickets visit www.jabfest.com. Lonestar Amphitheater, 602 E 19th St; 4 p.m.



September 20….Women of Lubbock Music Encore - If you missed them the first time around, here's your chance to see them in action! If you were there, you don't want to miss this encore performance - they have some amazing surprises in store! So move over guys, the women own the stage tonight! FEATURING: Gypsy Jane, Miz Ayn, Ingrid Kaiter, Joy Harris, Avery Gyear, Terri Caldwell, Bonnie McRae, Lindsay Boreing, and more! Please call the cactus theater box office at 806-762-3233 for tickets. Cactus Theater, 1801 Buddy Holly; 7:30 p.m.


Panhandle South Plains Fair Returns For Weeklong Run

September 19 - 27….Panhandle South Plains Fair - Food, fun, rides and all your favorite shows are here. Don't miss all the excitement at the Fair. Admission: Adults—, Kids 12 and under—, Parking—.

Specials:


Thursday, September 18th: Buck-A-Ride Nite - All rides are .00 from 6:00 pm -11:00 pm and there is no parking or admission fee.
Sunday, September 21st: Family Day - All persons under 18 years of age admitted free until 9:00 pm.
Tuesday, September 23rd: Senior Citizens Day - All persons over 60 years of age pay only .00
For all the details call 1-806-763-2833 or visit www.southplainsfair.com. The Fairgrounds are located on the northeast corner of Broadway and Ave A. The Fair gates will open at 8 a.m. daily and close at 11 p.m. Sunday through Thursday and midnight on Friday and Saturday. The carnival opens at 3 p.m. Monday-Friday, and 11 a.m. Saturday and Sunday and operates until 11 p.m. Sunday through Thursday and midnight Friday and Saturday.


Many more UPCOMING FUN THINGS TO DO are listed on our website...lots further out than the weekly postcard. Click here to go to our CALENDAR OF EVENTS for more info on these activites and MORE>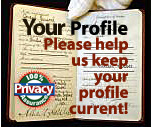 UPDATE YOUR PERSONAL SETTINGS ... see link below Every email you receive from us has an opportunity to change your email, update your address or add in custom profile choices. Be sure your 100% confidential profile is complete. It helps us be of better service to you. Thanks!

To unsubscribe...click on UPDATE YOUR PERSONAL SETTINGS at the same location and choose "No Lists."

If you are having trouble seeing the photos, read our online version
If you are having trouble seeing the photos, read our online version.