November 20, 2014

THURSDAY through SUNDAY

November 20 - 23….35th Annual Holiday Happening: Unwrap The Magic - Hosted by the Junior League of Lubbock, Holiday Happening is one of the most exciting events in the Lubbock community, ushering in the Christmas season each fall. Holiday Happening offers entertainment and shopping for the whole family. Gather your girlfriends, sisters, mothers, and daughters together to enjoy a day of food, fashion and shopping. Delight in a delectable brunch, an elegant style show, a silent auction, and stroller-free shopping at Ladies Day on Thursday. On Friday, be the first to see Santa, enjoy breakfast, and play in the snow inside the Civic Center! It wouldn't be Holiday Happening without a visit from Jolly Ole St. Nick! Once again, Breakfast with Santa on Saturday is sure to delight the child in everyone. Find unique gifts for everyone on your list with Market Hall Shopping available every day. You may purchase tickets by calling 806.445.9637 or at the Holiday Happening west ticket booth located at the Lubbock Memorial Civic Center. For more information and for specific hours visit http://www.jllubbock.com/?nd=holiday. Lubbock Memorial Civic Center, 1501 Mac Davis Lane.

November 20 - 23….CATS - Lubbock Moonlight Musicals will once again bring professional theatre with a local flavor to Lubbock audiences with a new production of the musical CATS by Sir Andrew Lloyd Webber. The musical will be presented in its original form—completely staged and costumed—continuing a new era of cooperation and collaboration among Lubbock arts groups and artists. The production will be directed and

produced by Lubbock Moonlight Musicals' executive director, Gerald Dolter, and choreographed by Ballet Lubbock's own Yvonne Racz-Key. John Hollins of the Lubbock Chorale will lead the production musically and will conduct the professional orchestra in the pit. The cast of CATS will be headlined by Ken Page, again filling his former Broadway role of "Old Deuteronomy"; Todrick Hall, an American Idol semi-finalist from Plainview; Jeff M. Smith, a Lubbock Moonlight Musicals alumni and Texas Tech graduate, who recently completed a national tour of the musical West Wide Story in the leading role of Tony; and stunning mezzo-soprano, Ann Marie Nichols. The production will once again be coordinated to coincide with the Junior League of Lubbock's annual Holiday Happening expo at the Civic Center, and one dollar of each ticket sold shall be donated to a local charity through the Junior League. Tickets are available through Select-A-Seat at 806-770-2000 or online at http://www.ticketsage.com/_lubbock/. Lubbock Memorial Civic Center Theatre, 1501 Mac Davis Lane; Thursday – Saturday; 7:30 p.m., and Sunday; 2 p.m.



FRIDAY Only

November 21….November Friday Fiesta – This is a seasonally inspired kid's party/parents night out where kids enjoy pizza, drinks, a sweet treat, arts and crafts and related game activities. This month's theme is Harvest Celebration. Activities include Thanksgiving turkey craft and scavenger hunt, pumpkin walk relay, corn ring toss, sunflower seed minute to win it, candy bar memory game and Thanksgiving trivia/ pass the conversation circle. Cost is .00 per child/ sibling rate. Kids must be ages 6 -12. Reservation is required by calling 806-767-3796. Maxey Community Center, 4020 30th Street; 6 – 10 p.m.

November 21….Winnebago Whoopie - This new original Cactus creation takes you on a musical tour of Texas towns! The hilarious comedic antics of Jane Prince Jones and Kurt Kiser will have you rolling in

the aisles!! You'll hear songs from El Paso to Dallas and from Amarillo to San Antone performed by the best country singers in West Texas! Join us on this fun filled adventure through Texas in true Cactus style! STARRING: Kurt Kiser, Jane Prince Jones, Jeff Bailey, Amber Pennington, Jason Fellers, Bristi McHam, Kassidy King and the Lubbock Texas Rhythm Machine. Please contact the box office at 806-762-3233 to reserve tickets. Reserved seating . Cactus Theater,1812 Buddy Holly Avenue; 7:30 p.m.


FRIDAY, SATURDAY and SUNDAY

November 21 - 23….Love, Loss, and What I Wore - Nora Ephron and Delia Ephron's intimate collection of vignettes and monologues is based on the best-selling book of the same

name by Ilene Beckerman, as well as on the recollections of the Ephrons' friends. Like the book, this theatrical event uses clothing and accessories and the memories they trigger to tell stories to which all women can relate. Winner of the 2010 Drama Desk Award. Winner of the Broadway.com audience choice award as Favorite New Play. Nominated for a 2010 Drama League Award. Written by Nora Ephron and Delia Ephron. Based on the Book by Ilene Beckerman. Directed by Jay C. Brown. Rated PG-13. Ticket Prices: Adults: , Students/Seniors . To reserve tickets visit http://lubbockcommunitytheatre.org/ or call (806) 749-2416. Lubbock Community Theatre, 4232 Boston Avenue; Friday and Saturday: 7:30 p.m. and Sunday: 2 p.m.


SATURDAY Only




November 22….Book signing at Barnes and Noble - Co-authors Kay Ellington and Barbara Brannon will sign The Paragraph Ranch, a West Texas novel and D.E.L. Connor will sign Spirit Warriors, a young adult novel. Barnes & Noble, 6002 Slide Road; 1 -3 p.m.

November 22….Doug Smith: The Journey - Doug Smith is widely recognized as one of the finest pianist and composers not only in West Texas, but throughout the country. His first virtuoso piano recordings were done when he was only 15 years old in the late '70s and continued until his t

ragic accident in July 2007. Doug's public appearances since that time have been few and far between. The Cactus Theater proudly welcomes Doug to the stage, to not only play a tune or two, but to discuss his life's journey, current and future plans. He will be joined in this concert by many of his favorite performers throughout the years. It's a wonderful opportunity for Doug to catch up with his friends and his fans. Please contact the box office at 806-762-3233 to reserve tickets. Reserved seating first 4 rows; rest of floor ; balcony . Cactus Theater,1812 Buddy Holly Avenue; 7:30 p.m.


Last Week's Trivia Answer....

The Question: The Statue of Liberty, as it came to be called, was created by the French, as many people know. But it was not initially intended to go to the United States. For which country was it created in a slightly different likeness?

Answer: It was originally designed to look like an Arab peasant and was to be placed at the entrance to the Suez Canal in Egypt.

Winner: Michelle M. of Lubbock


This Week's Trivia Question....



For this contest, 1 winner will receive a Family 4-pak to The Polar Express - which opens this weekend in Wolfforth, Texas.

To win these tickets, correctly answer the trivia question below and email it to us at info@lubbockfunclub.com using the fun phrase "All Aboard, 2014!" as your subject title.
The Question: Which blockbuster film is mimicked by the hobo while he's atop the train in the 2004 movie "The Polar Express" ???
The deadline for this contest is Friday (tomorrow!) at 10 a.m. and the winner will be contacted shortly thereafter. Please....we ask that you only enter the contest once to be fair to everyonem.



Community Spotlight:
Fall Traditions and Service Opportunities Abound

November 14 – 22….23rd Annual "Feed a Friend It's as Easy as Pie" Fundraiser - For a donation to Lubbock Meals on Wheels, participants will receive a coupon for a free Sara Lee pie. Varieties include: homestyle apple, dutch apple, cherry, pumpkin, mince, sweet potato, and peach. This is Lubbock Meals on Wheels' second largest annual fundraiser. We have raised our goal to ,000 this year. Donations can be made at any Lubbock United Supermarket, Market Street, Amigos, or at the Lubbock Meals on Wheels' office, 2304-34th. Lubbock Meals on Wheels serves hot, nutritious meals to over 700 homebound, elderly and disabled people each weekday, totaling over 170,000 meals annually. LMOW depends solely on the Lubbock community for financial support. We receive no governmental funding; we are not a United Way funded agency. Over 1,200 volunteers and 12 staff members carry out the mission of Lubbock Meals on Wheels.

November 21-22; 28-30; December 5-7; 11-14; 17-23; 26-27….Polar Express Train Ride - The Polar Express comes to West Texas to recreate all the sights and sounds of the time-honored story. Picture the excitement of children dressed in pajamas with golden tickets clutched in their hands as they board the train and prepare to embark on their journey to the North Pole. The story begins when the Conductors calls "All aboard" and gleefully punches everyone's ticket. Little faces will peer out the train's windows as we pull out of the station on our way to the North Pole. Guests will hear the sounds of the motion picture soundtrack as the story reading begins and the book's characters come to life. Dancing chefs will serve hot cocoa and cookies to all riders in a merry fashion as the doubting hobo wanders through the train. The train stops where children will behold the magic of the North Pole from their warm train seats. With a jolly "Ho, ho, ho" Santa waves to everyone and climbs aboard where he will greet each child and present them with the iconic silver sleigh bell - listen carefully, only believers can hear its ringing! Christmas carols will be sung as elves dance along as the journey back to the station begins after a memorable ride that sets the tone for the whole holiday season. Join us in this annual event sure to become one of your family's treasured traditions. Ticket prices vary – For more info, please visit www.westtexaspolarexpressride.com or call 877.726.7245. 103 N. Steck Ave., Wolfforth, Texas

November 22….National Day of Service - In celebration of Family Volunteer Day, the Volunteer Center of Lubbock invites the community to participate in transformative service projects throughout Lubbock on Saturday, November 22. Opportunities include: serving breakfast and helping fill grocery bags at the Lubbock Dream Center, then in the afternoon, help deliver turkeys to families. The Stockings Project will be stuffing 3,000 stockings to be sent overseas to a U.S. military base. The Difference Maker's Fellowship will have a Community Thanksgiving Lunch, serving families with a meal. Join the Volunteer Center to make holiday cards for our men and women in service, who are away from home during the holidays. More projects will be added as the day approaches! For the last 23 years, Family Volunteer Day has been held on the Saturday before Thanksgiving to "kick-off" the holiday season with giving and service. This day celebrates families who volunteer together, supporting their neighborhood, communities, and the world. Keep in mind, Family Volunteer Day is not just for families! We welcome people of all ages to get involved on this day of service. To find out about more projects or to register, visit
http://getconnected.volunteerlubbock.org/aam/general/event/?doc_id=1173 or contact CiCi Nunez at (806) 747-0551 or cnunez@volunteerlubbock.org.


Looking Ahead in the Calendar....

November 27....2014 Turkey Trot
November 28….The Eagles & Bon Jovi Forever: A Tribute
December 2…...56th Annual Carol of Lights
December 4…...Fun Club Singles "SOS" Monthly Dinner
December 4-7...6th Annual Community Nativity Exhibit
December 5…..Lubbock Symphony Orchestra Holiday Concert
December 6…..Pancake Breakfast and Craft Fair
December 6…..Annual Greek Pastry Bake Sale
December 6…..Book Signing at Holly Hop Ice Cream Shoppe
December 6…..Holiday Home Tour, 3rd Annual Afterglow
December 7…..Carol of Lights Run
December 7…..David Gaschen Just in Time for Christmas
December 11…."Foxhole Christmas" at Silent Wings Museum
December 13….10th Annual Miracles Christmas Parade


Many more UPCOMING FUN THINGS TO DO are listed on our website...lots further out than the weekly postcard. Click here to go to our CALENDAR OF EVENTS for more info on these activites and MORE>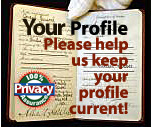 UPDATE YOUR PERSONAL SETTINGS ... see link below Every email you receive from us has an opportunity to change your email, update your address or add in custom profile choices. Be sure your 100% confidential profile is complete. It helps us be of better service to you. Thanks!

To unsubscribe...click on UPDATE YOUR PERSONAL SETTINGS at the same location and choose "No Lists."

If you are having trouble seeing the photos, read our online version
If you are having trouble seeing the photos, read our online version.