July 24, 2014

THURSDAY

July 24….Grape Field Day - The Texas A&M AgriLife Extension Service will conduct a Grape Field Day which is an educational opportunity for anyone from the novice to the experienced grower interested in grape

production, said Robert Scott, AgriLife Extension agent at Lubbock. Scott said Dr. Ed Hellman, AgriLife Extension viticulturist at Lubbock, will lead the discussion. "I think grape growers will be interested most particularly in the different varieties that we grow here in the research vineyard," Hellman said. "We have 30 different wine grape varieties, which will be the main focus of the field day. But we will also talk a little about the vineyard's trellis/training system." Individual registration is , due upon arrival. The fee includes light snacks. For more information, contact Scott at 806-775-1680, rj-scott@tamu.edu . Vineyard on the grounds of the Texas A&M AgriLife Research and Extension Center at Lubbock, a quarter mile east of the center on Farm-to-Market 1294. The field day will start with registration at 8:30 a.m. followed by the program from 9-11 a.m.



July 24….Buddy Holly Center Summer Showcase: Colin Gilmore and Nicolette Good (Acoustic Duet) - The Buddy Holly Center is offering another summer of music and fun with the annual Summer Showcase Concert Series running now through August 28th. Showcase is free to the public. There is a cash bar and beverages available for purchase. No outside beverages are allowed. Performances are every Thursday from 5:30 pm – 7:30 p.m. in the Meadows Courtyard. Buddy Holly Center, 19th & Crickets Ave).



July 24…."Alice in Wonderland Jr." - Hub Performing Arts School Shining Stars camp presents " Alice in Wonderland Jr." You will love this fun show and will leave singing! Tickets are just and can be purchased at the door. Beat the heat and bring the whole family! For more info, visit the website at ww.hubperformingartsschool.com. All Saints Episcopal School, 3222 103rd St; 6:30 p.m.

July 24…."Hard Working Americans" - This American rock supergroup formed in 2013, features Todd Snider, Dave Schools, Neal Casal, Chad

Staehly and Duane Trucks. Their just-released, self-titled album portrays the life of an everyday working man. Come check out this great new group - you are sure to enjoy! Tickets are .00 and can be reserved by calling (806) 762-3233 or online at CactusTheater.com. Cactus Theater, 1812 Buddy Holly Ave; 8 p.m.


FRIDAY Only

July 25….Cactus Hootenanny Part 2 - If you were at the first run of the "Cactus Hootenanny" you witnessed a truly special show. The songs,

primarily from the 60's/70's, capture that genre of folk music we all knew and loved. The only problem, is one show is not enough! So... we are presenting Cactus Hootenanny Part 2 You'll hear songs made famous by Peter, Paul and Mary, Bob Dylan, Joni Mitchell, Simon and Garfunkle, Crosby, Stills, Nash and Young, Woodie Guthrie, Joan Baez and many more. Treat yourself to this wonderful evening of great music! Tickets are .00 and can be reserved by calling (806) 762-3233 or online at CactusTheater.com. Cactus Theater, 1812 Buddy Holly Ave; 7:30 p.m.


FRIDAY and SATURDAY

July 25, 26....."God of Carnage" - A playground altercation between eleven-year-old boys brings together two sets of

parents for a meeting to resolve the matter. At first, diplomatic niceties are observed, but as the meeting progresses, and the rum flows, tensions emerge and the gloves come off, leaving the couples with more than just their principles in tatters. *Recommended for mature audiences due to language. Ticket prices are for students/seniors and for adults. For reservations, visit catplayhouse.com or call (806) 792-0501. Children and Adults Theatrical Studio, 2257 34th Street; Doors will open at 7 p.m. and show time 7:30 p.m.



July 25, 26….Lubbock Moonlight Musicals: "South Pacific" - There is nothing like the beloved musical South Pacific! Join us for an enchanted evening of South Pacific this summer. Rich with well-known songs such as: "I'm Gonna Wash that Man Right Outa My Hair", "Some Enchanted Evening", "There is Nothin' like a Dame" and "Younger Than Springtime"... this production will both entertain and inspire you. If you have any questions, please call the Select-a-Seat box office at (806) 770-2000. Wells Fargo Amphitheatre, 413 E. Broadway. Gates open at 7 p.m. and show begins at 8 p.m.


SATURDAY Only



July 26….The Lubbock Downtown Art Market (DAM) - Time for the Farmers Market! Through the end of season in October, the market will be open every Saturday. There will be lots of vendors including Sunburst Farms, Crazy Hoe Farms, Harden Farms, Apple Country, Crusty's Wood Fired Pizza, Juicy Lucy's Veggies, Dutch Cheesemaking, Wolf Creek Farms, Pullen Produce, Kelly B Jammin', Simply Decadent Bakery, South Plains Foodbank GRUB Farm , Nancy Hubbard, Honeys Farm Fresh, Holy Cow Beef, and Dessert Flirt. Visit lubbockdowntownfarmersmarket.com for more information. Depot District, 19th & Buddy Holly; 9 a.m.- 1 p.m.

July 26….South Plains Pop Warner Football Sign-ups - This youth football league is accepting registrations for the upcoming fall season. There will be a sign up on Saturday July 26 2014 at Play-It-Again 4815 50th St. For more information call Phone:(806) 788-0144 or visit http://southplainspopwarner.net./



July 26….Country Gospel Night - There's just something about good ol' country gospel music that just warms the heart! The Cactus Theater happily hosts this uplifting, inspirational concert that will leave you smiling.Tickets are .00 and can be reserved by calling (806) 762-3233 or online at CactusTheater.com. Cactus Theater, 1812 Buddy Holly Ave; 7:30 p.m.

July 26….Starwalk –This long standing public astronomy program continues its 19th year. SkyGuide volunteer Terry Paridon will lead participants in a naked-eye exploration of the night sky beginning at sunset, around 9:30 p.m. in Big Pond Campground. In addition to the after-dark programs, Sky Guide volunteers will again offer Sun Fun at 5:00 p.m. Sun

Fun offers the public rare views of our own star, the Sun, through telescopes fitted with filters for safe viewing. Nighttime observing begins after sunset. Paridon will begin the program with a tour of the darkening sky - the original StarWalk. Blending science with history, legends, and lore, Paridon will take the public on a tour through major constellations, spotlighting bright stars, and introduce the "star-hopping" technique to find other interesting objects. After the StarWalk, the public is invited to view these various dark-sky objects through the park's binoculars and telescopes with the help of knowledgeable Sky Guide volunteers who come from throughout Texas and Oklahoma to assist. Upon entering the park, signs will direct visitors to Big Pond Campground and parking. The quarter-mile walk into the observing area is on lighted asphalt and extra assistance for the handicapped is available from park personnel. For more info on park facilities or other programs, call 940-839-4331 during business hours. Copper Breaks State Park is located 13 miles south of Quanah and eight miles north of Crowell on State Highway 6.


SUNDAY



July 27….hONEyhoUSe CD Release Party - The "Sweep" CD is finally out and hONEyhoUSe is heading to the LBK for a CD release party! If you already know them, you've been waiting for this for months! If you haven't heard this powerhouse, all-woman ensemble, then you're in for a treat! Join us, you won't be disappointed! at the door. For more info, see the Facebook event page: https://www.facebook.com/events/681291448625171/68346256. Tornado Gallery, 1822 Buddy Holly Ave; Doors at 6:30. Concert from 7 - 9 p.m.


Last Week's Trivia Winner....

The Question: Which member of the Gatlin Brothers band once taught at a Lubbock junior high school in the early '70s ???

Answer: Steve Gatlin

Winner: Marie E. of Lubbock


This Week's Trivia Question....



For this contest, 1 winner will be chosen to receive two vouchers to attend any of the Lubbock Moonlight Musicals performances this summer!

To win these tickets, answer the trivia question below and email it to us at info@lubbockfunclub.com using the fun phrase "Two Part Pacific" as your subject title.
Two-part Question: a) The film adaptation of the Rodgers and Hammerstein musical South Pacific was based on which book?
b) Who is the author of it?

NOTE THIS WEEK'S EARLY DEADLINE: The deadline for this contest is Thursday (TONITE) at midnight and the winner will be contacted Friday by noon. This way, the winner may use the vouchers for one if this weekend's performances if they so choose

Please....we ask that you only enter the contest once to be fair to everyone.

Thanks...and good luck to all!



Many more UPCOMING FUN THINGS TO DO are listed on our website...lots further out than the weekly postcard. Click here to go to our CALENDAR OF EVENTS for more info on these activites and MORE>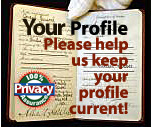 UPDATE YOUR PERSONAL SETTINGS ... see link below Every email you receive from us has an opportunity to change your email, update your address or add in custom profile choices. Be sure your 100% confidential profile is complete. It helps us be of better service to you. Thanks!
To unsubscribe...click on UPDATE YOUR PERSONAL SETTINGS at the same location and choose "No Lists."
If you are having trouble seeing the photos, read our online version
If you are having trouble seeing the photos, read our online version.