April 24, 2014

THURSDAY Only



April 24….The Wind, The West and The Wardrobe - J Hoffman's and Mountain Hideaway have come together for a night of fashion and fiddling benefitting Literacy Lubbock. Music will be provided by Grand Ole County beginning at 6:30 p.m. Tickets are .00. Western attire is optional. Call Literacy Lubbock at 775-3636 for tickets. American Wind Power Center, 1701 Canyon Lake Drive; Dinner at 6:30 p.m., show at 7 p.m. and dancing at 8 p.m.

April 24….The Texas Wine & Food Foundation: High Plains Chapter 1st Annual Cork & Pork - This event will feature a whole hog and fixins by Smokin'

Joes, music by Gary Nix & West Texas, beer and wine from Wicked Beaver Brewing Company and McPherson Cellars. Members - - includes meal & 2 drink tickets. Non-members - includes meal and 1 drink ticket. Additional drink tickets available for . Limited tickets on sale at McPherson Cellars, Host & Toast, and The Funky Door. For more details and information, visit mcphersoncellars.com. McPherson Cellars, 1615 Texas; 6:30 – 9:30 p.m.



FRIDAY ONLY

April 25….3rd Annual Uncorked Carnival - This year's carnival line-up includes carnival-style games, caricature and balloon artists,
magician, Irving Quant, Shutter Shack photo booth, Dutch Cheese making grown up grilled cheese, curly fries, and corndogs, Simply Decadent desserts, Holly Hop ice cream and sorbet, and Tammy with Music to the Maxx playing your favorite tunes. The entrance fee includes 10 tickets (additional tickets available for purchase: 5 for ). For more info, visit mcphersoncellars.com. McPherson Cellars, 1615 Texas; 6 – 9 p.m.

April 25….Kids' Friday Night Fiesta - Feel like having an adult night out, but want the kids to be entertained as well? Let Lubbock Parks and Recreation watch the kiddos while they can enjoy fun, food, crafts, scavenger hunts, games, activities and more! This month's theme is Spring Fling...which will include stain glass craft, chopstick relay and What Is It Bean-bag Balance relay. Children between the ages of 6 and 12 are invited to attend, and preregistration is required the Thursday before each event. Cost: to . For more info, call 806.767.3796. Maxey Community Center, 4020 30th St; 6 – 10 p.m.
April 25….Casting Crowns: Thrive Tour - Casting Crowns embarks on a new tour with a new release. Come spend an evening of music with them as they share the stage with Laura Story and Colton Dixon. For more information call 210-468-5592 or visit www.itickets.com. City Bank Coliseum, 2720 Drive of Champions; Doors open at 6 p.m. and concert starts at 7 p.m.
April 25….TTU Presidential Lecture and Performance Series: Poem Jazz with Robert Pinsky & Laurence Hobgood - An evening of spoken word & live jazz with U.S. Poet Laureate Robert Pinsky & Grammy Award-winning jazz pianist Laurence Hobgood. Three term

United States Poet Laureate (1997-2000) Robert Pinsky has devised a collaborative program which showcases his two great passions: poetry and jazz. PoemJazz presents the human voice – the reading and performance of poems – along with a variety of jazz musical improvisations performed by Grammy Award-winning jazz pianist Laurence Hobgood. Poem Jazz: a conversation between the sounds of poetry and music. Book & CD signing following performance. Cost: - For more information call 806.770.2000 or visit SelectASeatLubbock.com. Texas Tech University's Allen Theater, 15th Street and Akron Avenue; 7 p.m.

April 25….Cactus Theater: Tribute to Journey, Bon Jovi & Aerosmith – Huge hits by these gigantic groups – recreated by the

Lubbock Texas Rhythm Machine led by guitarist/vocalist Dustin Garrett with Jeff McCreight, Amber Pennington and Jason Fellers insure a magical one-of-a-kind concert for the fans of this wonderful music. Tickets: .00. For more info visit www.cactustheater.com or call 806.762.3233. Cactus Theater, 1812 Buddy Holly Ave; 7:30 p.m.


FRIDAY and SATURDAY

April 25 - 26 (Repeats May 2, 3, 4)….Hub Theatre Group and Hub Performing Arts School: "Seussical Jr." - This fun musical will remind you how much you love Dr. Seuss! Follow Horton the Elephant's journey as he tries to save the Whos. Your heart will melt as you watch

Gertrude McFuzz- the bird with the one feather tail, desperately try to get Horton's attention and you will laugh and sing along as The Cat in the Hat and Thing 1 & Thing 2 join in the fun. Tickets are just ! Tickets can be purchased by calling 806-577-2978. Help us blue out the audience on Friday, April 25th in honor of Autism Awareness month. Bring an extra dollar to write your name on a puzzle piece and support the wonderful efforts of the Burkhart Center. All Saints Episcopal School's new Main Stage theatre- 3222 103rd Street; Friday, April 25th 7 p.m., Saturday, April 26th 2 p.m.



April 25 - 26….Flatlands Dance Theater: "Collide" - Flatlands Dance Theatre will inspire and entertain viewers with an innovative concert of collaborations between choreographers, dancers, musicians, visual artists, multimedia artists...and even circus artists. Ticket prices include a Select-a-seat surcharge, and are general admission and for students with ID and seniors. Tickets can be purchased online at www.selectaseatlubbock.com or by calling Select-A-Seat at (806) 770-2000. LHUCA Firehouse Theater, 511 Avenue K; 8 p.m.



SATURDAY Only

April 26…."Texas Grit" Release and Book Signing - The Adventures of Wilder Good – Texas Grit is the second title in the book series The Adventures of Wilder Good by S.J. Dahlstrom. The first book, The Elk Hunt, has nationwide placement in bookstores and retailers. Adults and kids are reading about Wilder Good and his outdoor adventures. View the website and Wilder's Nature Journal at http://www.wildergood.com/. National Ranching Heritage Center, 3121 Fourth Street. 10 a.m. - 4 p.m.

April 26….Rainwater Harvesting Conference - The Texas South Plains is currently in its fourth year of severe to extreme drought. These climate conditions bring to the forefront the need to conserve our precious water resources and use them wisely. The Lubbock Master Gardeners and the Lubbock County Office of Texas A&M AgriLife Extension are offering a Rainwater Harvesting Conference. Participants at this workshop will learn

proven methods for capturing rainwater in the landscape to help plants thrive and reduce monthly water bills. They will learn about water saving landscape design, rain gardens, rain barrels, and installing and using larger rain capture systems. The featured speaker at this workshop is Dr. Dotty Woodson, State Water Conservation Extension specialist at Dallas. Woodson is one of the creators of Texas SmartScape, a landscape water conservation design and maintenance program promoted by the North Central Texas Central of Governments. At this conference, she will provide practical information that can make a huge difference in water availability for landscapes. Registration is limited to the first 100 participants. The registration fee is , which includes a catered lunch. For registration info, go to www.lubbockmastergardeners.org/ and look under the "Coming up" tab, or you can call 806-778-5778. Register today. Covenant Presbyterian Church at 48th & Salem; 9 a.m. - 3 p.m.

April 26….Annual Arboretum Plant Sale – an event that you won't want to miss! We have loads of water-wise perennials, herbs, vegetables and even a kids zone this year with gardening activities, yoga and yummy snacks for the kids to try. The Native Plant Society and city mulching program will be out with us too – sharing their knowledge and tips for homeowners. Rain barrels with kits area packaged up and ready to grab-and-go for only . You can't find them for less anywhere else! Join us for this once-a-year event – where your money pays for educational programming and your plants grow happily! Lubbock Memorial Arboretum, 4111 University Avenue; 9 a.m.- 3 p.m.

April 26….16th Annual Blue Ribbon Rally Car & Bike Show – Come and enjoy this fun filled day. The rally is free and everyone is welcome to

attend. Business in the depot will be open, offering amazing specials, and some will even have entertainment. April is child abuse prevention and awareness month. All proceeds benefit the children of Lubbock and surrounding South Plains Area through the programs and services of Family Guidance & Outreach Center. For more info visit www.blueribbonrally.com or call 806.747.5577. Depot District, 19th and Buddy Holly Ave; 10 a.m.

April 26….44th Annual Ranch Day - Spend some time in the Old West during the National Ranching Heritage Center's 44th annual Ranch Day. This year's theme, "Pals of the Saddle," will feature saddles and many other items that helped shape the image of the cowboy. Featured activities rope making, leather stamping, horseback riding, chuck wagons, stick horse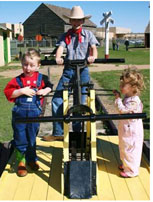 rodeo, paint cattle branding and more. Also, enjoy viewing some of the spurs and firearms in the NRHC's collection. Ranch Day is a living history, educational event begun in 1970 at the National Ranching Heritage Center. More than 100 Ranch Hosts and special event participants recreate authentic settings reflective of ranching from the 1780s to the present. Admission to the day's events is free but donations are encouraged. Lunch will be available for a small fee in the Pitchfork Pavilion and homemade ice cream and vanilla wafers will be available for sale on the Campbell Patio. For additional info about Ranch Day, call Julie Hodges at the National Ranching Heritage Center, (806) 742-0498 or email julie.hodges@ttu.edu. National Ranching Heritage Center, 3121 4th Street. Event takes place 10 a.m.- 4 p.m.

April 26….Real Heroes Wear Dog Tags Picnic and Dance - This is an invitation to all veterans, active military personnel, their families and all of those who want to say "Thank You" and show their appreciation to our country's true heroes. Come join us for some family fun as we kick things off at 4 p.m. with our Real Heroes Wear Dog Tags picnic honoring the true heroes of our country. Bring your blankets, chairs, games and grub. At 6 p.m., be sure and get registered for our door prize giveaway and make

yourselves comfortable in the barn, or trade your combat boots for your dancin' shoes and cut a rug on the dance floor. At 6:30, our "opening ceremony" will begin as we kick things off with the National Anthem. A few welcoming words will follow and then it's time to enjoy our live music provided by our very own local musician extraordinare, Junior Vasquez. Door prizes will be announced throughout the evening. Relax, enjoy, but most importantly, remember those Heroes who have given so much for our country serving in our Army, Navy, Marines, Air Force and Coast Guard. **Do not bring your own alcohol, a cash bar will be provided. For more info, visit www.realheroesweardogtags.com. At'l Do Farms, 6323 FM 1294 in Lubbock; 4 p.m.

April 26….Leigh Anne Tuohy - Leigh Anne Tuohy will be in Lubbock for a speaking engagement to kick off Foster Awareness Month in May. Leigh Anne will speak at the event sponsored by Sondra's Song, S2S, Soar 2 Succeed program where she will discuss her life experiences and faith. Cost: for show, 0 for show/dinner. For more information call 806.770.2000 or visit SelectASeatLubbock.com. United Spirit Arena, 1701 Indiana Ave; The event will consist of a VIP dinner at 6:30 p.m. with the sponsors, and a main program will follow at 8 p.m. that is open to the general public. Doors open at 5:30 p.m.

April 26….South Plains College Big Band Dance – Dance to the big band swing music of the '40s played by the South Plains College Jazz Band and the 18 piece South Plains Dance Orchestra. Admission is .00 a person at the door. Proceeds benefit the Wilburn and Helen Wheeler Band Scholarship and the Fred and Bettye Harris Music Scholarship. South Plains College Sundown room in the Student Center; 7 -10 p.m.

April 26…."Cactus Kids Go MOTOWN" - The incredibly talented kids from Terri Caldwell Music and the "Motown Sound" will come together for an exciting concert that will blow you away! For those of you who have seen

these kids in concert - you know this is no ordinary kid show. These are the most talented young singers you could ever hope to see in one concert- and they are right here in Lubbock! You'll hear songs by the Jackson 5, the Supremes, Little Stevie Wonder, Martha and the Vandellas, Marvin Gaye, Mary Wells and many more!!! The Lubbock Texas Rhythm Machine will be backing the kids so get your tickets now - these kids are gonna rock the house! Tickets: .00 Adults, for kids 12 & under. For more info visit www.cactustheater.com or call 806.762.3233. Cactus Theater, 1812 Buddy Holly Ave; 7:30 p.m.

April 26….Texas Tech University School of Music: 38th Annual Scholarship Concert - Double Concerto for Violin, Cello, and Orchestra by

Johannes Brahms. Dona Nobis Pacem by Ralph Vaughan Williams featuring the Texas Tech University Choirs, Symphony Orchestra and The Lubbock Chorale. Admission is free (donations welcome). Broadway Church of Christ, 1924 Broadway Street; 8 p.m.



SATURDAY and SUNDAY

April 26 – 27….56th Annual Gem & Mineral Show - Presented by the Lubbock Gem & Mineral Society; Cost; adults , seniors , students , children free. Event includes dealers, rocks, gems, minerals, jewelry,

rough, slabs, beads, novelties, lapidary and jewelry-making demonstrations, Kids' Corner, Spin to Win, silent auction, member exhibits, visiting exhibits, door prizes, junior and adult grand prizes. For more info contact Walt Beneze at (806) 797-5832; e-mail: walt@lubbockgemandmineral.org or see www.lubbockgemandmineral.org. Lubbock Memorial Civic Center; 1501 Mac Davis Lane. Hours for event are: Saturday: 10 a.m.- 6 p.m.; Sunday: 10 a.m.- 5 p.m.



SUNDAY Only

April 27….Museum of Texas Tech University: Frank Lloyd Wright's Samara: A Mid-Century Dream Home - What is it like to live in a work of art? Experience the process of building and living in a home designed by one of America's greatest architects in Frank Lloyd Wright's Samara: A Mid-Century

Dream Home, opening April 27 at the Museum of Texas Tech University. The exhibition explores the creation of a Wright house through the eyes of a client who spent more than fifty years fulfilling the renowned architect's Usonian vision. An impressive compilation of original furniture, architectural fragments, rare archival materials, historic photographs, and video are all on view in this immersive exhibition. Visitors to Frank Lloyd Wright's Samara have the unique opportunity to get a behind-the-scenes look at how the values of a young Indiana couple worked in tandem with Wright's vision to create one family's definition of an American dream home. More information is available at www.maaa.org and www.eusa.org. Admission is free. Museum of Texas Tech University, 3301- 4th Street. For museum hours visit www.museum.ttu.edu.



Get Social....Make New Friends
FUN LUBBOCK COUPLES
Your Responses Were Positive!

Last week, we pitched you the idea of creating a loose-knit group...designed to offer couples in Lubbock the chance to expand their circle of friends by offering opportunities to gather together. We are pleased to announce that we heard from several of you who liked the idea!

Among the many responses and creative suggestions:

"We moved here from Dallas nearly 5 years ago and still have not made many couple friends. I love the idea of a couples group! We go to a lot of the First Friday art trails, enjoy live music, the broadway musicals and eating at yummy restaurants. Please count us in."

"I do something on the postcard every other weekend....I think the things on the postcard are things we could do."

"Small trips to say, Ruidoso or Red River in the winter time and going to State Parks for fishing and camping during the summer would be nice."

"Like speed dating, four top tables and you move around the room when the bell rings and the couples meet several people that way."

"My husband and I have a few couples we do things with but having a couples outing sounds like a blast. Please keep us updated and thanks for all that you do."

Based on these great responses...we are planning a first gathering this next Friday, May 2, to launch the concept!

So....next Friday night, we invite all FUN LUBBOCK COUPLES (you know who you are!) to gather for a casual "meet and greet" on the Cactus Theater patio around 6 p.m. They will have refreshments, concessions, live music by the "stars" of their productions...and we can get to know each other in a fun, casual atmosphere. We can then go next door to the Tornado Gallery for the start of a fun evening on the First Friday Art Trail...trolleyhopping through the arts district.

Who knows where we go from there. Some may wish to seek out some live music afterwards....or a meal along the way...but we'll have fun making new friends and sharing good times. More info in next week's postcard, of course.

Like what you hear? Please give us some feedback! Email us at this address: info@lubbockfunclub.com

Look for more ideas and and details next week!



Looking Ahead in the Calendar....

May 2-3…...Lubbock Symphony Orchestra: Classical 5
May 9-11....LCT: "The Musical of Musicals (The Musical!)



Many more UPCOMING FUN THINGS TO DO are listed on our website...lots further out than the weekly postcard. Click here to go to our CALENDAR OF EVENTS for more info on these activites and MORE>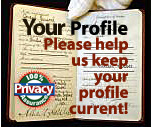 UPDATE YOUR PERSONAL SETTINGS ... see link below Every email you receive from us has an opportunity to change your email, update your address or add in custom profile choices. Be sure your 100% confidential profile is complete. It helps us be of better service to you. Thanks!
To unsubscribe...click on UPDATE YOUR PERSONAL SETTINGS at the same location and choose "No Lists."
If you are having trouble seeing the photos, read our online version
If you are having trouble seeing the photos, read our online version.