August 21, 2014

THURSDAY



August 21….Buddy Holly Center Summer Showcase: Buggaboo – (Americana Rock) - The Buddy Holly Center is offering another summer of music and fun with the annual Summer Showcase Concert Series running now through August 28th. Showcase is free to the public. There is a cash bar and beverages available for purchase. No outside beverages are allowed. Performances are every Thursday from 5:30 pm – 7:30 p.m. in the Meadows Courtyard. Buddy Holly Center, 19th & Crickets Ave).


FRIDAY Only



August 22….Rock of the '80s Tour – Come and enjoy the music of the '80s featuring The Smithereens, The Romantics, Marshall Crenshaw, and Tommy Tutone. Tickets can be purchased online at www.ticketsage.com. Cost: general admission tickets. Buddy and Maria Elena Holly Plaza, 1801 Crickets Avenue; 7:30 p.m.



August 22….Movie Night at Maxey Park - Bring your picnic, blankets and lawn chairs and enjoy a movie in the park! The movie for this month is "Peter Pan." Concessions available for purchase. Admission is free. For more info, please call 806.767.3796. Maxey Community Center, 30th and Oxford; Movie begins at dusk, approximately 8:45 p.m.



FRIDAY and SATURDAY

August 22, 23 (Repeats Aug.29, 30)…."Rope" - Children and Adults Theatrical Studio is proud to present Alfred Hitchcock's "Rope," directed by Mickie Klafka. Ticket prices are for adults and for students/seniors and can be reserved by calling (806) 792-0501 or online at www.catsplayhouse.com. Children and Adults Theatrical Studio, 2257- 34th Street; Doors will open at 7 p.m. and the show will start at 7:30 pm.

August 22, 23….Lubbock Moonlight Musicals: "Titanic - The Musical" - Be part of the epic voyage this summer at the Wells Fargo Amphitheatre in Mackenzie Park. Talented singers and

brilliant actors bedecked in lavish costumes depict the moving story of the ocean liner RMS Titanic. This is the voyage of a lifetime! Bring your family and friends and join the thrill of Titanic. Book your passage today! If you have any questions, please call the Select-a-Seat box office at (806) 770-2000. Wells Fargo Amphitheatre, 413 E. Broadway; Gates open at 7 p.m. Show begins at 8 p.m.

August 22, 23 (Repeats Aug. 29, 30, 31)….Cactus Theater: "HITSVILLE" - This is the newest original musical to hit the Cactus stage! This play will present, in a unique way, the songs that changed the course of popular music forever. As part of the Cactus Theater's mission to mentor area talent, the Cactus Theater is enabling young talent to

"shadow" adult performers to learn from seasoned professionals. The Cactus Kids Theatrical Company joins the stars of the Cactus Theater to present this exciting new production! Aug. 22nd and 23rd will feature the adult cast and mentors along with the supporting cast from our kids theatrical program. Aug. 29th, 30th, and 31st will feature an all kids cast - dancing singing and acting! Last year's production of "ALL SHOOK UP" was proof that the vision of the "shadowing" concept works!! This is a must see for every musical theater fan in West Texas! Please call the box office at 806-762-3233 to inquire about the special privileges and benefits of balcony box seating. Kids 12 years and under ticket price . Cactus Theater, 1812 Buddy Holly Ave; 7:30 p.m.


SATURDAY Only



August 23….The Lubbock Downtown Art Market (DAM) - Time for the Farmers Market! Through the end of season in October, the market will be open every Saturday. There will be lots of vendors including Sunburst Farms, Crazy Hoe Farms, Harden Farms, Apple Country, Crusty's Wood Fired Pizza, Juicy Lucy's Veggies, Dutch Cheesemaking, Wolf Creek Farms, Pullen Produce, Kelly B Jammin', Simply Decadent Bakery, South Plains Foodbank GRUB Farm , Nancy Hubbard, Honeys Farm Fresh, Holy Cow Beef, and Dessert Flirt. Visit lubbockdowntownfarmersmarket.com for more information. Depot District, located at 19th & Buddy Holly Avenue; 9 a.m.- 1 p.m.

August 23….Whirligig Weekend in Crosbyton, Texas - Whirligig Weekend is calling all "Junk Enthusiasts" to Crosbyton, Texas! We are redefining "Whirligig" to mean "A Contraption from repurposed, re-claimed, and up-cycled materials made to spin in the wind." Create your own whirligig contraption! Create Whirligig, Wind Chimes, Wind Whimsies from used materials! Contests have cash prizes!! Enjoy local music and great food. Downtown Crosbyton, Texas.



August 23….The Roundtable Luncheon - Speaker will be Sandy Henry president of Science Spectrum and Omni Theatre. The public is invited to attend. Cost is per person limited menu beverage and dessert. Travel north on North University Avenue then turn left or west on Newcomb Street and proceed to Clubhouse. Hillcrest Country Club Main Dining Room 4011 North Boston Avenue; 11:15 a.m. - 1 p.m.


MONDAY Only

August 25….Silent Wings Monday Matinee - After the Japanese attack on the American naval fleet at Pearl Harbor on December 7, 1941, the U.S. was thrust into World War II from that day, until the Fall of 1945, and everyday life across the country was dramatically altered. People in the U.S. grew increasingly dependent on radio reports for news of the fighting overseas and popular entertainment was viewed as an escapist outlet that allowed Americans brief respites

from war worries. Throughout World War II, American moviegoers were treated to a steady stream of war-related programming. The movie-going experience included a newsreel, which lasted approximately 10 minutes, and was loaded with images and accounts of recent battles, followed by an animated cartoon. While many of these cartoons were entertainingly escapist, some comically caricatured the enemy. Among these titles were "Der Fuehrer's Face" (1943) starring Donald Duck, "Confessions of a Nutsy Spy" (1943) with Bugs Bunny and "Daffy the Commando" (1943) with Daffy Duck. As for the main program, movie theaters showed non-war-related dramas, comedies, mysteries and Westerns; however, a significant segment of feature films dealt directly with the war. For the Matinee, the Silent Wings Museum will be showing a series of cartoon shorts that were shown during World War II. Following the movie patrons are encouraged to stay for a post-matinee discussion about life on the home front during the war and take a guided tour of the Combat Gallery and the Interactive Space set up to resemble a WWII war zone. There will also be an educational children's activity station available.

Regular admission rates apply:
General Admission: .00; Senior Citizens (60+): .00
Children 7-17: .00; Students (with college ID): .00
Children 6 and Under: FREE; Museum Members: FREE
Active Duty Military (in uniform): FREE Groups of 10 or more please call (806) 775-3331
1 p.m. Doors Open
1:30 p.m. Matinee
2:15 p.m. Q&A and Guided Tour
2:45 p.m. Educational Children's Activity
3:30 p.m. Museum Closes
Silent Wings Museum Theater, 6202 N. I-27 (Exit 9); 1 - 3:30 p.m.


Historic Granada Theatre: 4 Major Fundraising Concerts Next Week!

August 29 - September 1.... Historic Granada Theatre: "Restoration Concert Series" - This landmark theatre - located in downtown Plainvew, Texas - is experiencing a rebirth after being closed for 17 years. Since being purchased two years ago by Lubbock Fun Club owners Darryl and Stephanie Holland, many exciting changes have been taking place leading up to the recent completion of the "phase one" renovations. To celebrate these milestones, raise awareness of the continuing restoration efforts and create fundraisers which entertain the community and fans from the South Plains, a four-day/four concert series is being staged over the entire Labor Day Weekend. Several genres of music will be represented! We invite all to make the short trek to Plainview to help in this fundraising series and to see the progress made thus far!

Concert lineup, starting times and advance ticket prices:

Friday, Aug. 29...Texas Tornados....................8:00 pm....
Saturday, Aug. 30 - Jason Boland /Stragglers...8:00 pm....
Sunday, Aug. 31 - Natalie Grant......................7:30 pm....
Monday, Labor Day - .Asleep at the Wheel.......7:30 pm....
Note: Tickets more at the door

* A special pre-concert barbeque meal option is offered for before the Natalie Grant and Asleep at the Wheel concerts. These meal tickets are available only at the Plainview Chamber of Commerce and Broadway Brew in Plainview; and at the Holly Hop Ice Cream Shoppe in Lubbock. Advance purchase of barbeque tickets highly encouraged to insure availability.

Advance Concert Only Tickets available at these locations:
The Broadway Brew, 108 E. 7th Street (Downtown Plainview)
Plainview Chamber of Commerce, 1906 W. 5th St (West Plainview)
Holly Hop Ice Cream Shoppe 3404-34th Street (Lubbock)

Tickets also available online through Select-a-Seat.com or at all South Plains locations of Select-a-Seat including: the Student Union Building on the Texas Tech campus, Dollar Wester Wear, Ralph's Records, Lubbock Memorial Civic Center, Amigos in Plainview and Lubbock, the 50th Street and 98th Street locations of Market Street and all area United Supermarkets locations. .25 service fee applies to Select-a-Seat orders and mailing fee for tickets sent by mail.


This Week's Trivia Contest....



For this contest, 1 winner will be chosen to receive two tickets to attend one of the four Labor Day Weekend concerts at the Historic Granada Theatre in Plainview. The winner may choose from Texas Tornados, Jason Boland and the Stragglers, Natalie Grant or Asleep at the Wheel.
To win these tickets, answer the trivia question below and email it to us at info@lubbockfunclub.com using the fun phrase "Return of the Historic Granada" as your subject title.

The Question: In what year did the historic Granada Theatre originally open in downtown Plainview?
The deadline for this contest is Monday morning (by noon) and the winner will be contacted later that day.
Please....we ask that you only enter the contest once to be fair to everyone.
Thanks...and good luck to all!


Many more UPCOMING FUN THINGS TO DO are listed on our website...lots further out than the weekly postcard. Click here to go to our CALENDAR OF EVENTS for more info on these activites and MORE>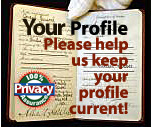 UPDATE YOUR PERSONAL SETTINGS ... see link below Every email you receive from us has an opportunity to change your email, update your address or add in custom profile choices. Be sure your 100% confidential profile is complete. It helps us be of better service to you. Thanks!

To unsubscribe...click on UPDATE YOUR PERSONAL SETTINGS at the same location and choose "No Lists."

If you are having trouble seeing the photos, read our online version
If you are having trouble seeing the photos, read our online version.