December 18, 2014

"Special Holiday Edition"
- Covers Events Thru Year End -
(Weekly Postcard Resumes January 8, 2015)

THURSDAY through TUESDAY

December 18–23….Moonlight Musicals: Madrigal Dinners - This Christmas season Lubbock Moonlight Musicals will present its third annual Madrigal Dinners. The show will be rewritten to portray a new plot, centered around the birth of Christ and

a Renaissance style Christmas feast. There will be songs, plays, dances, and much audience participation. Come join the King and Queen while they celebrate the Yuletide season with a Renaissance feast! Tickets are available through Select-A-Seat at 806-770-2000 or online at http://www.ticketsage.com/_lubbock/. LHUCA Christine DeVitt Icehouse Theatre, 511 Avenue J; Doors open at 6:30 p.m., and the dinner and show will begin at 7 p.m.


FRIDAY Only

December 19….Cowboy Christmas Concert – Everyone is invited to this festive holiday concert event featuring Wendell Sollis and the Sidekick All Star Band at the Historic Granada theatre in downtown Plainview! Show will feature a 2.5 hour concert, complimentary refreshments and some fun

surprises. The band is an eclectic ensemble of West Texas talent...playing everything from traditional country to Western Swing to Cajun, Big Band and, of course, Christmas classics. Dance area available at foot of the stage for those interested in kicking up their heels! Tickets available in Lubbock at the Holly Hop Ice Cream Shoppe at 3404-34th Street and through all area Select-A-Seat physical locations and online at selectaseatlubbock.com. Advance tickets also available in Plainview at Broadway Brew, Grumpy's Grill and the Plainview Chamber of Commerce. Tickets are .00 for students/kids, .00 for single adults or .00 per couple. Ticket includes Christmas cookies and traditional hot wassail or hot chocolate. Tickets also available at the door, night of concert. Box office opens at 6 pm; concert 7 p.m. Historic Granada Theatre, 812 Broadway, Plainview;; 7–9:30 p.m.


FRIDAY and SATURDAY

December 19 - 20….Celebrity Attractions: "Broadway Holiday" - This winter Neil Berg's critically acclaimed musical revue Broadway Holiday will deck the hall with Christmas tunes from Broadway scores

along with celebrated favorites from Broadway's hottest shows. Five Broadway brightest stars - direct from New York - will take audiences on a journey celebrating the great American songbook, songs from Broadway's recent blockbusters. An evening of Broadway stars singing holiday songs and standards will be the perfect way to warm your heart this Christmas season. Celebrity Attractions recommends Neil Berg's Broadway Holiday for audiences of all ages. This is only to be used as a suggestion for you and your child. Each child is different and the decision to attend this show should be made by the parent or guardian. For tickets call (800) 784-9494. Lubbock Memorial Civic Center Theatre, 1501 Mac Davis Ln; Friday & Saturday 7:30 p.m.; Saturday matinee 2 p.m.

December 19 - 20 (Repeats December 23)….Cactus Family Christmas Celebration - Christmas is a wonderful time of year! For the past 18 years, the Cactus has performed its "Cactus Family Christmas Celebration" featuring some of the greatest singers ever to hit the Cactus

stage. This year we wanted to share our favorite memories with songs featured from the last 18 shows in Cactus history. With old and new faces, you will experience the "meaning" of Christmas in this show. With holiday treats provided by Slaton Bakery, hot apple cider to warm your heart, and beautiful Christmas decor filling every corner, you will be blessed this holiday season by the Cactus Family. Please contact the box office at 806-762-3233 to reserve tickets. Reserved seating and Ages 12 and under. Cactus Theater,1812 Buddy Holly Avenue; 7:30 p.m.


FRIDAY thru CHRISTMAS DAY

December 19 - 25….Santa's Land Drive Thru Christmas Park in Tahoka - The park is open for its stretch run through the big day. Park is located at S.11th & Ave O (south west corner of town) in Tahoka, Texas. For more information call 806-891-1291.


SATURDAY and MONDAY



December 20 (Repeats December 22)….Ornaments, Cookies and Santa - Kids of all ages ...come on down to The Mud Room and have some fun decorating cookies from Cookies by Design, making an ornament, and getting your picture made with Santa! Reserve your spot by calling 794-6992 or 793-3271. These parties fill up quickly, so call today! Cost is for a cookie, ornament, and picture or each! All this FUN happens at The Mud Room - pottery, mosaic and canvas art studio, 3302-82nd Street. Thursday, December 20, from 10 a.m. – 12 p.m. or Monday December 22 from 4-7p.m.


SUNDAY and MONDAY



December 21, 22….It's a Cactus Kids Christmas - It's beginning to look a lot like Christmas.... at least it is at Terri Caldwell Music! These fantastic singers are busy preparing for the best Christmas show ever! Treat yourself to a wonderful night of pure entertainment - and be prepared to be blown away. These kids could compete with any adults - anywhere! Solos, duets, trios and lots more all backed by the Lubbock Texas Rhythm Machine! Please contact the box office at 806-762-3233 to reserve tickets. Reserved seating and Ages 12 and under. Cactus Theater,1812 Buddy Holly Avenue; 7:30 p.m.


Last Week's Trivia Question....

The Question: Which state was the LAST to make Christmas an official holiday ???

Answer: Oklahoma

Winners: Amber S. and Dell S...both of Lubbock


This Week's Trivia Question...



For this contest, 1 winner will receive 2 tickets to Celebrity Attractions' presentation of "Broadway Holiday" on Friday night (that's TOMORROW)!

To win these tickets, correctly answer the trivia question below and email it to us at info@lubbockfunclub.com using the fun phrase "Friday Holiday" as your subject title.

The Question: Which department store created the immensely popular "Rudolph the Red-Nosed Reindeer" as a marketing device to lure customers to its stores ???
The deadline for this contest is Friday (tomorrow!) at 10 a.m. and the winner will be contacted shortly thereafter. Please....we ask that you only enter the contest once to be fair to everyone.

Good luck to all!



Community Spotlight:
Don't Miss These Annual, Family-Oriented Attractions

December 18 - 23….Santa Land - Bring your children and grandchildren to Mackenzie Park and enjoy a long-time Lubbock tradition when Santa Land opens to the public on Wednesday, December 10, 2014, at 6 p.m. Children from Lubbock and surrounding communities are invited to Santa Land's Opening Ceremony and to help Lubbock City Council members welcome Santa and Mrs. Claus from

the North Pole, turn on the lights in this winter village with its 60-foot Christmas tree, and officially open Santa Land. Lubbock Parks and Recreation has hosted Santa Land for the past 58 years, and admission for all ages is free. Santa Land will be open every evening from December 10-23 from 6 to 10 p.m. nightly. Between 38,000-41,000 people visit Santa Land each year to see the festive holiday village with its huge lighted Christmas tree, animated displays, bonfires, traditional holiday scenes, and of course, Santa and Mrs. Claus. Each evening at 6 p.m., a sleigh with tiny reindeer bring Santa and Mrs. Claus to Santa Land to hear the Christmas wishes of area children. Youth this year can look for Bo, Santa Land's very own Elf on the Shelf! Enjoy live entertainment most evenings from 6:30-8 p.m. Hot chocolate and other refreshments are available for sale at the concession stand. Parents are welcome to bring cameras and video cameras to take photos of their children with Santa at no charge. For those who forget their cameras, keepsake digital photos may be purchased for each. The entrance to Santa Land is from the East Broadway entrance in Mackenzie Park.

December 18 - 23 (Repeats December 26-27)….Polar Express Train Ride - The Polar Express comes to West Texas to recreate all the sights and sounds of the time-honored story. Picture the excitement of children dressed in pajamas with golden tickets clutched in their hands as they board the train and prepare to embark on their journey to the North Pole. The story begins when the Conductors calls "All aboard" and gleefully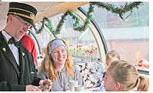 punches everyone's ticket. Little faces will peer out the train's windows as we pull out of the station on our way to the North Pole. Guests will hear the sounds of the motion picture soundtrack as the story reading begins and the book's characters come to life. Dancing chefs will serve hot cocoa and cookies to all riders in a merry fashion as the doubting hobo wanders through the train. The train stops where children will behold the magic of the North Pole from their warm train seats. With a jolly "Ho, ho, ho" Santa waves to everyone and climbs aboard where he will greet each child and present them with the iconic silver sleigh bell - listen carefully, only believers can hear its ringing! Christmas carols will be sung as elves dance along as the journey back to the station begins after a memorable ride that sets the tone for the whole holiday season. Join us in this annual event sure to become one of your family's treasured traditions. Ticket prices vary – For more info, please visit www.westtexaspolarexpressride.com or call 877.726.7245. 103 N. Steck Ave., Wolfforth, Texas.


Looking Ahead thru Year's End...

December 26….Country Gospel Night "Celebrating the Blessings of 2014" - The day after Christmas, presents have been opened and we're stuffed from Christmas dinner so let's all get together and show our thankfulness to God for the blessings from 2014! Enjoy beautiful and exciting inspirational music from the stellar talent for which the Cactus is famous. Featuring your favorite Gospel Night artists from 2014, and the Cactus Choir. Please contact the box office at 806-762-3233 to reserve tickets. Reserved seating . Cactus Theater,1812 Buddy Holly Avenue; 7:30 p.m.



December 27…."The Best Of 2014" - Before 2014 is over... we invite you to walk down memory lane with us as we encore what we consider to be "the best" performances of the year. Only once every year do you get the chance to see the best of the fantastic shows we present at the Cactus. Think of it as a great big, delicious glass of concentrated Cactus! Please contact the box office at 806-762-3233 to reserve tickets. Reserved seating . Cactus Theater,1812 Buddy Holly Avenue; 7:30 p.m.

December 31….Overton NYE 2014 - Come experience the excitement of New Year's Eve in elegant and festive surroundings at the Overton Hotel & Conference Center. So don't wait any longer to purchase tickets to our Annual NYE Party in the Sunset Ballroom. Your ticket includes premium open bar, gourmet food and dessert stations, live entertainment by the Kinky Wizards as well as a DJ to heat up the dance floor! At midnight, celebrate with a balloon drop and champagne toast. Test your luck at Vegas style gaming with your chance to win amazing door prizes with proceeds going towards the Texas Boys Ranch. Tickets are 0 per couple and must be purchased in advance. Buy a Table of 10 and save 0! Make it a night to remember and add a beautifully appointed guestroom accompanied by a chilled bottle of champagne to your package at a special rate when you purchase tickets. Please call the Overton Hotel Reservations Department and reference you ticket number to make a guestroom reservation. Overton Hotel & Conference Center, 2322 Mac Davis Lane; 7 p.m.
December 31….Moonlight Ball: Revival of the Greats - Looking for a special way to commence the New Year? Bring out your finery and join Lubbock Moonlight Musicals this New Year's Eve for their first ever Moonlight Ball! This charming formal event will feature dining, dancing, and delightful 1940's era musical hits. The evening will begin with buffet

style hors d'oeuvres, and light jazz tunes for entertainment. The second segment of the evening will contain a sumptuous meal by Honeychild Catering; a ballroom for your dancing pleasure; and vocal performances by Moonlight Musicals best, accompanied by Alan Shinn's big band orchestra. Also included will be floor-show performances by Fred Astaire and Ginger Rogers; silly skits by Larry, Moe, and Curly; and special appearances by several guest artists. To polish off the evening will be a scrumptious dessert selection and a champagne toast to usher in the New Year. Come dance the night away with Frank Sinatra, Bing Crosby, Billie Holiday, and many more at Lubbock Moonlight Musicals' Moonlight Ball: Revival of the Greats! Tickets are available through Select-A-Seat at www.selectaseatlubbock.com, or by calling 806.770.2000. Lubbock Memorial Civic Center Banquet Hall, 1501 Mac Davis Lane; 7 p.m. - Midnight.


Many more UPCOMING FUN THINGS TO DO are listed on our website...lots further out than the weekly postcard. Click here to go to our CALENDAR OF EVENTS for more info on these activites and MORE>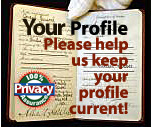 UPDATE YOUR PERSONAL SETTINGS ... see link below Every email you receive from us has an opportunity to change your email, update your address or add in custom profile choices. Be sure your 100% confidential profile is complete. It helps us be of better service to you. Thanks!

To unsubscribe...click on UPDATE YOUR PERSONAL SETTINGS at the same location and choose "No Lists."

If you are having trouble seeing the photos, read our online version
If you are having trouble seeing the photos, read our online version.