March 17….Celtic Ensemble in Daytime St. Patty's Concert – Roan Inish Damhsa will be performing at the Holly Hop Ice Cream Shoppe in an afternoon St. Patrick's Day concert. The band includes PJ Welch–Liggan on the pennywhistle and silver flute; Robin Crawford on guitar and fiddle; Warren Ward on bass and Donovan Vallance and Sandy Weller on the bodhran. Kristen Williamson and Kara Vallance will be performing Irish step dancing. Audience participation is encouraged...with a chance to play the bodhran and learn to Ceili dance. Admission is free. Holly Hop Ice Cream Shoppe, 3404 – 34th Street; 1 – 2 p.m.





March 17….Foxtails Brigade in Concert - "Foxtails Brigade's story-based songs and melody-driven style bring commanding stage presence reminiscent of Kate Bush, Edith Piaf, and Nico. Their haunting vocal sound and violin harmonies, fairy-tale lyrics, and classical technique deem them artists to watch with great things to come." - CBF (LA Weekly). Admission is $10.00. Call 806-762-8606 or visit www.lhuca.org for more information. LHUCA Firehouse Theatre, 511 Avenue K; Doors open at 6:30 and the show starts at 7 p.m.


March 17 – 21….Arboretum Spring Gardening Camp for Kids - Make your kid the superhero of the neighborhood. Let us nurture their love of nature! Kids ages 6-12. Camp costs is $50 per child. Space is limited so email Jennifer at Jennifer.simek@ttu.edu or call 797-4520 or 790-3921 to reserve a slot for your children or grandchildren. Lubbock Memorial Arboretum, 4111 University Avenue; 9 a.m. – 12 p.m.


March 17 - 21….Spring Break - Kids Camp at The Mud Room - Woohoo! Happy Schoolbreak! Happy Spring! Happy Happy Everything! $25 per day or $100 prepaid for the week. Ages 5-12 years. Must have a reservation by one week prior. Call 806-793-3271 to register. Snack provided daily. These are the fun activities we are planning: paint a canvas (your name? favorite quote? scene?), paint your own pottery- cup and plate, create a mosaic- your initial, favorite animal, or shape, design a t-shirt and paint it, paint a bank or tic-tac-toe game board! You can join our "Young Mudders" kids club for more info about fun activities going on all the time. Like us on Facebook to stay informed as well! You can get a discount if you do! The Mud Room, 3302-82nd Street, 1 -3 p.m. daily.


March 19 – 22….Just Between Friends 2014 Spring Sale – Shop to get fabulous bargains on clothes, toys, baby equipment, shoes, bedding, furniture and more. We inspect every item ensuring you the best quality merchandise. You don't want to miss this awesome sale. The moonlight extravaganza takes place on Wednesday and is open to the public from 6 – 9 p.m. $2/adult admission. Thursday through Saturday is free admission. Visit http://lubbock.jbfsale.com/homeView.jsp for more information. Trinity Christian School, 6701 University; Thursday and Friday: 10 a.m. – 7 p.m., Saturday: ½ price Sale 7 a.m.- 2 p.m.






March 21….Cactus Theater: Country Gospel Nite - There's nothing more special than homegrown country gospel music. From the Grand Ol' Opry to the Louisiana Hayride, Gospel music has always played a very important role. Join Jerry Brownlow, Jim Fullingim, Terri Caldwell, Jeff Bailey, Bonny McRae and Don Caldwell as they play your favorite country gospel songs and share their favorite songs of praise. Tickets are $20.00. For more info visit www.cactustheater.com or call 806.762.3233. Cactus Theater, 1812 Buddy Holly Ave; 7:30 p.m.





March 21, 22….Lubbock Moonlight Dinner Theatre: Marry Me A Little - Moonlight Dinner Theatre welcomes you to come enjoy a night of the music and lyrics of Stephen Sondheim! Marry Me a Little uses songs that were written for some of Sondheim's most beloved shows, such as A Funny Thing Happened on the Way to the Forum, Anyone Can Whistle, Company, Follies, and A Little Night Music but never found their way onto the stage. These "lost songs" come together to tell a story of two single people living in New York City contemplating the complexities of love and relationships. Come see local stars Annie Nichols, and Joseph Rodriguez spin a musical tale using only the songs of Sondheim. Musical direction and piano collaboration is by Anh Van Vu; Stage Direction is by Joseph Rodriguez. Tickets are available for dinner and a show, and show-only through Select-A-Seat at 806-770-2000. Louise Hopkins Underwood Center for the Arts in the Christine DeVitt Icehouse Theatre, 511 Avenue K; Dinner begins at 6:30 p.m.; the show will begin at 7:30 p.m.






March 22….Silent Wings Museum Swing Dance - Swing into spring and learn some new dance steps! The Silent Wings Museum will host a dance class for ages 15 and up with instructor Don Hunnicutt. There will be one hour of swing dance instruction followed by an hour of dancing. Partner suggested, but not required. The workshop cost is $7. Pre-registration is required by Tuesday, March 18th at 5 p.m. For more information or to register for the workshop, call (806) 775-3049. Silent Wings Museum, 6202 N. I-27; 4-6 p.m.


March 22….The Cactus Theater Hootenanny - For the first time, the Cactus Theater presents a night of legendary folk music. Hear hits of Peter Paul and Mary, Joan Baez, the Kingston Trio, The New Christy Minstrels, Bob Dylan, Woody Guthrie, the Highwaymen, Judy Collins, Arlo Guthrie and more! The fabulous Stars of the Cactus come together to group up and knock your socks off. This is a must see concert! Tickets are $25.00. For more info visit www.cactustheater.com or call 806.762.3233. Cactus Theater, 1812 Buddy Holly; 7:30 p.m.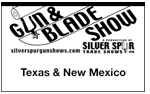 March 22 - 23….Silver Spur Gun and Blade Show - With over 20 years experience in the trade show business, Silver Spur shows are well-known and well-attended gatherings in a safe, family-friendly environment. The trade show will feature exhibitors from the United States selling guns, knives, swords, holsters, ammunition, accessories and more. Many new and used items will be available to purchase, sell or trade at the event. Admission: $6 for adults and 12 and under are free, 2 for 1 first hour both days - $1 off ACTIVE military or NRA w/ID. Only 1 discount/special can be used at a time. For more information, call 806.253.1322 or visit www.silverspurtradeshows.com. Lubbock Memorial Civic Center, 1501 Mac Davis Lane; Saturday: 9 a.m. to 5 p.m. & Sunday;
10 a.m. to 5 p.m.






March 26….An Evening With Documentary Filmmaker Scott Thurman - Texas Tech School of Art proudly presents an evening with award winning documentary filmmaker Scott Thurman. The event is free and open to the public. Mr. Thurman will introduce and screen his recent film THE REVISIONARIES, for which he received the Jury's Special Prize at the 2012 Tribeca Film Festival and the 2014 DuPont Award, which honors excellence in broadcast and digital journalism in the public service, and is administered by the Columbia University Graduate School of Journalism. THE REVISIONARIES was also the winner of the most recent Independent Lens Audience Award, and aired on PBS earlier this year. This film follows the fifteen members of the Texas State Board of Education who influence what is taught to the next generation of American children. The theory of evolution and a re-write of US history are caught in the crosshairs when an unabashed creationist seeks re-election as chairman of America's most influential board of education. Shot over the course of three years, director Scott Thurman gained unique access to the Texas Board of Education, America's most influential, where a few citizens are fighting a battle to shape the course of American education through the revision of public school textbooks. Viewers see both sides of the debate, meeting key players, and witnessing them tangle over critical issues like evolution.Scott Thurman was born in Lubbock and reared in Amarillo. He received a BFA from Texas Tech School of Art and a Masters in documentary filmmaking from the University of North Texas in Denton. Thurman currently lives in Austin. This fall he will teach at Gordon College in Massachusetts as a tenure track assistant professor in documentary filmmaking. English Lecture Hall 01 on the Texas Tech Campus; 7 p.m.