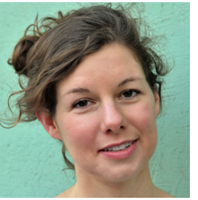 February 17....LHUCA Literary Showcase - Please join us for the LHUCA Literary Showcase featuring poetry readings by Dima Alhesan, Kate Simonian and Allegra Hyde, visiting writer, pictured. Free to the public. LHUCA, Firehouse Theatre, 511 Ave K. Event takes place 7 – 9 p.m.




February 11 – May 21….Be the Dinosaur Exhibition & Dinosaurs Giants of Patagonia Movie - The Science Spectrum is excited to announce the opening of a totally new style of hands-on interactive traveling exhibit, Be the Dinosaur: Life in the Cretaceous. Using technology, this one-of-a-kind exhibit will immerse you in the world of dinosaurs and allows visitors to learn how they lived. Travel back in time to the Cretaceous, find out when and where dinosaurs lived, how they hunted, ate, took care of their young, their biology and discover what the natural world was like in a time long ago. Be the Dinosaur is a groundbreaking fusion of state-of-the-art video game technology and traditional exhibits, featuring full-size dinosaur bones, a paleontology field station, life-like moving animatronic dinosaurs, a Safari Jeep, and more. Through innovative technology, visitors of all ages can enter into the largest and most complex restoration of an extinct ecosystem ever created. Also Featured: Dinosaurs Giants of Patagonia in the OMNI Theater While you're here, you'll also be able to take in the full dinosaur experience by seeing the OMNI film, Dinosaurs: Giants of Patagonia. Explore a time when huge dinosaurs inhabited the world. Fossils of some of the largest dinosaur species ever unearthed come from the region of South America known as Patagonia. The large format film, Dinosaurs: Giants of Patagonia, will bring you up close and personal with these extraordinary creatures that lived before the dawn of man. For additional film information visit, http://www.dinosaurs3dmovie.com/ The OMNI Theater will be showing the 2D film version.

Be the Dinosaur w/Standard Museum:
Adult $12.50....Child (3-12) $10.00....Senior (60+) $10.00
Be the Dinosaur w/OMNI Film:
Adult $12.50....Child (3-12) $10.00....Senior (60+) $10.00
Be the Dinosaur w/Museum/OMNI
Adult $17.50....Child (3-12) $13.50....Senior (60+) $13.50

* For Group and School Group rates and reservations please call
806-745-2525 x234.
Science Spectrum Museum & OMNI Theater, 2579 S. Loop 289.




February 17….Lubbock Symphony Orchestra Presents A Night At The Movies - The LSO brings the big screen to the music stage with a performance of popular selections from your favorite movies. This special concert will transport you to the past and present with the music of timeless classics. For more information or to reserve tickets visit http://www.lubbocksymphony.org/. Lubbock Memorial Civic Center Theatre, 1501 Mac Davis; 7:30 p.m.





February 17-19 (Repeats Feb. 24-26; March 3-5)….Lubbock Community Theatre Presents: "A Raisin in the Sun" - Set on Chicago's South Side, the plot revolves around the divergent dreams and conflicts within three generations of the Younger family: son Walter Lee, his wife Ruth, his sister Beneatha, his son Travis and matriarch Lena. When her deceased husband's insurance money comes through, Mama Lena dreams of moving to a new home and a better neighborhood in Chicago. Walter Lee, a chauffeur, has other plans, however: buying a liquor store and being his own man. Beneatha dreams of medical school. The tensions and prejudice they face form this seminal American drama. Sacrifice, trust and love among the Younger family and their heroic struggle to retain dignity in a harsh and changing world is a searing and timeless document of hope and inspiration. Winner of multiple Tony Awards in the original 1960 production, as well as the 2004 and 2014 revivals. Written by Lorraine Hansberry and directed by Joshua Aguirre and Ronnie Miller. Rated: PG-13. To reserve tickets visit https://lubbockcommunitytheatre.org/tickets/. Lubbock Community Theatre, 4232 Boston Ave; Friday and Saturday: 7:30 p.m. and Sunday: 2 p.m.





February 18….Flippin' To Make a Difference: Lubbock Lions Club 65th Annual Pancake Festival - Each year the Lubbock Lions Club hosts the Largest Pancake Festival in the world to support local charities. They still hold the world record for the most pancakes served in an eight hour period by a non profit organization. When the Pancake Festival's doors open at 7 a.m. volunteers including local celebrities, split into three shifts, will stand behind massive grills prepared to flip pancakes throughout the day. Come and enjoy the delicious "all-you-can-eat menu" of light, fluffy pancakes, sausage, orange juice, milk and coffee. The atmosphere is festive and family oriented; children's activities and fantastic entertainment are ongoing. More than 700 volunteers will assist at the festival. Tickets are $6.00 in advance or $7.00 at the door. Children age 2 and under eat free! Advance tickets available from any Lions Club Member, at the Lubbock Lions Club office, or call 763-4789, all Bolton Oil/Gas Locations, and lubbocklions.org until 3 p.m. Friday, Feb. 17th. Lubbock Memorial Civic Center, 1501 Mac Davis; 7 am - 8 pm.