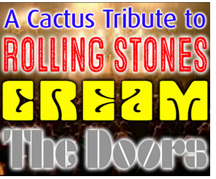 May 27….Tribute to The Rolling Stones - Cream - The Doors - In this stellar tribute concert, you'll hear the unforgettable songs by The Doors - including "Light My Fire", "Riders On the Storm", "Break On Through (To the Other Side)", "Love Her Madly" and other big hits. We'll revisit the brief but notable late '60s work by Cream - led by Eric Clapton - a group that produced the classic rock staples "White Room", "Badge", "Strange Brew" and, of course, "Sunshine of Your Love". And, we'll salute the group that many have called The Greatest Rock 'n' Roll Band of all time - The Rolling Stones. Just a small sampling of the songs you'll hear include: "Start Me Up", "Satisfaction", "Wild Horses", "Beast of Burden" and "It's All Over Now".Featured vocalists on this show are Craig Elliott, Jason Fellers, Mark Paden and Amber Pennington...all backed by The Rhythm Machine. Get your tickets now for this highly-anticipated tribute to three of the greatest rock ensembles ever! Tickets only $20 for reserved floor seats; $15 for standard balcony. Box office open daily 3:00-5:30 pm or call (806) 762-3233 or order online at cactustheater.com. Cactus Theater, 1812 Buddy Holly Ave: 7:30 p.m.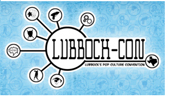 May 27 - 28….2nd Annual Lubbock-Con – All are invited to this fun 2 day event featuring comic books, cosplay, gaming, sci-fi, anime, multiple panel rooms, activity areas and contests which will fill up the show's floor and schedule while providing Lubbock with a weekend of fun and memorable experiences. Lubbock-Con is the endeavor of a local non-profit organization, Panhandle Pop Culture Ventures (PPCV). PPCV was established in 2015 by a group of fans, from the Lubbock area, hoping to cultivate and connect the fandom communities here in Lubbock. Through those connections, they hoped to build a large multi-genre, pop culture community with year round activities. For tickets visit http://www.lubbockcon.com/. Lubbock Memorial Civic Center, 1501 Mac Davis Lane; Sat 10 a.m.-7 p.m. & Sun 11 a.m.- 5 p.m.


Many more listings can be seen by clicking the "Calendar" tab at the top of this page!