April 24….The Wine & Food Foundation 2nd Annual Cork & Pork - The event will feature a whole hog & fixings, music by Gary Nix & West Texas, Great Plains Dist. beer, along with McPherson Cellars and Llano Estacado wine. Ticket prices are $35 for members and $45 for non-members and include food and drink tickets. Tickets can be purchased at the door. Put on your dancin' shoes and come join the fun! The Wine & Food Foundation of Texas is a nonprofit with a passion for wine and food for better health and well-being of the community. The organization hosts public wine and food events, educational opportunities, and a wine auction in the Southwest funding culinary scholarships, educational grants and other deserving causes. Bayer Ag Museum, 1121 Canyon Drive;
7 – 11 p.m.



April 24….Tribute to Bon Jovi, Journey, Aerosmith – Musically speaking - it doesn't get any more exciting than this! Mega-hitsongsmade famous by rock bands that are bigger than life! Come see how we do Bon Jovi, Journey and Aerosmith at the Cactus Theater!Get ready for "Livin' on a Prayer", "Don't Stop Believin'", "Dream On" and many more classic tunes! You will love this concert. Please contact the box office at 806-762-3233 to reserve tickets. Reserved seating . Cactus Theater, 1812 Buddy Holly Avenue; 7:30 p.m.





April through May….Pirates & Treasure - Arrr…ye ready for family fun this Spring? Treasure is a word that stirs the imagination of everyone, of every age. An educational and entertaining exhibit for museums and science/technology centers, Pirates & Treasure! explores the history of treasures and treasure hunting, the technology employed in hunting treasure, as well as the people and personalities that hunt for treasure—including you! What is treasure? Who hunts for treasure? Why do they hunt treasure? How do people hunt for treasure? What do you treasure? Explore these questions and take part in your own treasure hunt when you visit Pirates & Treasure! There will be several thematic areas and hands-on activities that allow you to try tools of treasure hunting and investigate treasures. Discover the life and times of pirates on the High Seas, from "Black Bart" and "Blackbeard" to "Long Ben", learn why these pirate legends are still romanticized today. Special exhibit features include actual artifacts from shipwrecks and other treasure sites. Visitors are invited to go on a treasure hunt in the exhibit to locate the special treasure chest. Pirates & Treasure! w/Film OR Museum w/Film & Museum
Adult $12.00 $17.50
Child (3-12) $9.50 $13.50
Senior (60+) $9.50 $13.50
*For Group and School Group rates and reservations call 806-745-2525 ext. 234. Additional exhibit info at www.sciencespectrum.org.
Science Spectrum OMNI Theater, 2579 S. Loop 289.


April 24 - 25....CATS presents: Faith County - Somewhere in the middle of nowhere in the south, there's a place where the bee-hive hairdo is still the rage and Saturday nights are reserved for the tractor pull in nearby Pickler. A colorful collection of good ole' country folk gather 'round for this year's county fair, and there's stiff competition in the arts and crafts category. This play was written by Mark Landon Smith and directed by Mackenzie Mealem. Doors will open at 7:00 pm and showtime is 7:30 pm. Tickets: $14 for adults and $12 for students/seniors. Children and Adults Theatrical Studio, 2257 34th Street.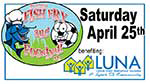 April 25….Fish & Foosball - Lubbock, if you are hungry and want to take part in something fun, please come to the 3rd Annual Fish Fry & Human Foosball Tournament! All proceeds will be benefiting the Lubbock Neighborhood Association. The great Lubbock owned and operated, River Smith's is Catering this event, so come enjoy some good food! Life-size foosball tournament is taking place with local teams to help raise money and have some fun. Heck, if you don't want to play, I know you want to come watch and see what it's all about! Fish Fry Tickets are $10 per plate. Team registration is $150. For more information or to register a team: Go to fishandfoosball.com or contact: Toni Spray (806) 749 – 5862 or toni.spray@gmail.com. Miller Park (South of Loop 289 - between Indiana and Memphis); 10 a.m.- 4 p.m.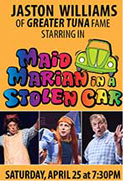 April 25….Maid Marian in a Stolen Car - The Lubbock Memorial Civic Theatre presents "Greater Tuna" creator and master storyteller, Jaston Williams in the Lubbock Debut of "Maid Marian in a Stolen Car." Jaston's hilarious new solo show is about his life in the theatre – both on stage and behind the scenes. Creator/Actor Jaston Williams describes Maid Marian… with charming simplicity: "Theatre is about sharing experiences, and I happen to live in a world full of characters and strange circumstances. Maid Marian in a Stolen Car is a comedy about life, and the moments that may not be funny while they happen to you, but are hysterical when someone else can observe them. Some of the best stories come about when everything goes wrong. Some of my funniest and greatest moments of theatre are notorious disasters that everyone has experienced in one way or another." Be prepared to laugh out loud as Jaston recalls a San Antonio production of Hamlet that mimicked the Battle of the Alamo. Learn why you can't do "trust exercises" with a multiple personality. And experience his recreation of the wildest Maid Marian since they chopped down Sherwood Forest. For tickets call Select-A-Seat at 806-770-2000. Lubbock Memorial Civic Center Theater, 1501 Mac Davis Lane;
7:30 p.m.