August 17….Buddy Holly Summer Showcase Series - This week En Power & Light plays Blues/Soul/Folk/Americana. Summer Showcase 2017 is free to the public. There will be a cash bar, food and beverages available for purchase. Please, no outside beverages are allowed. Performances are every Thursday evening 5:30 pm – 7:30 pm in Meadows Courtyard, 1810 Crickets Ave.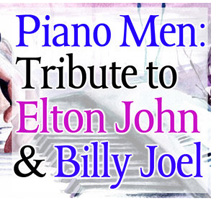 August 18…..Cactus Theater Presents: Piano Men: A Cactus Tribute to Elton John and Billy Joel - In the history of popular music, both Elton John and Billy Joel stand out as GIANTS in their field....with careers spanning nearly 50 years each....and hits numbering in the dozens. The Cactus celebrates the music of these two PIANO MEN in this special production highlighting some of the greatest hits ever. Featured vocalists on this show are Jeff Bailey, Steven Shedd and Amber Pennington. You'll hear the all-time classics from the Elton John catalog....songs like "Rocket Man", "Candle in the Wind" and "Your Song". From the Billy Joel catalog, you'll hear the songs that defined his greatest successes: "Piano Man", "We Didn't Start The Fire" and "You May Be Right". Reserved floor seats $20; standard balcony $15; limited box seats $40 - which included concessions with your ticket. Box office open 3:00-5:30 p.m. daily or call (806) 762-3233 or order online at cactustheater.com. Cactus Theater, 1812 Buddy Holly Ave.



August 18 - 19 (Repeats Aug.25-26)
Moonlight Musicals Presents: Seven Brides for Seven Brothers - This show finalizes the 12th summer season of Lubbock Moonlight Musicals in marvelous style! Featuring many of the stunning songs from the film starring Howard Keel and Jane Powell, Seven Brides for Seven Brothers will set your toes to tapping and have you humming "Bless Your Beautiful Hide" for days! Set in 1850's Oregon Territory, Seven Brides for Seven Brothers tells the story of young newly-wed, Millie, and her husband, Adam. In trying to convince her six brothers-in-law to marry (and move out), Millie faces the trials of teaching them about "goin' courtin'". The plan goes slightly awry when Adam reads to his brothers from Millie's book on "sobbin' women" and they decide to kidnap six young ladies to be their brides! TICKETS: Adult Premium- $31; Adult GA- $23; Student GA- $15; Child Premium (12 and under)- $18; Child GA (12 and under)- $10 (INCLUDING SERVICE CHARGE). Tickets at all Select-A-Seat locations and online. Phone 806-770-2000, or visit www.selectaseatlubbock.com. Moonlight Musicals Amphitheatre, 413 E. Broadway; Gates open at 7 p.m., and the performance begins at 8 p.m.




August 19….Lubbock Downtown Farmers Market - Looking for best in local produce, handmade and artisan products? If the answer is YES...then visit the Downtown Farmers Market each Saturday at 19th and Buddy Holly Ave from 9 a.m. to 1 p.m. for a taste of downtown Lubbock, and the finest in local produce, meat, dairy, cheese. baked goods and arts. The full 2017 market season will be every Saturday from June 3rd to October 28th from 9 a.m. until vendors sell out. For info, visit lubbockdowntownfarmersmarket.com/. We look forward to seeing you every Saturday at the Lubbock Downtown Farmers Market at 19th Street & Buddy Holly Ave.

Many more listings can be seen by clicking the "Calendar" tab at the top of this page!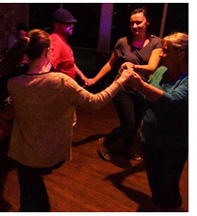 August 19….Contra Dance at the LHUCA Icehouse - Contra Dance: "refers to a folk dance, similar to a Square Dance, except instead of the square formation, it is danced in lines of couples, with every other couple facing up or down the hall." Hub City Contra and LHUCA invite all for our monthly social dance and Second Anniversary Celebration! Beginning at 7 p.m. Listen to music, meet new people, and dance the figures. $5 suggested donation. All ages and dance experience welcome! LHUCA Icehouse,511 Avenue K; 7 – 9 p.m.




August 19….Lubbock Lake Landmark Night Hike - Experience the Yellowhouse Draw at our "Landmark After Dark" night hike. Be sure to wear comfortable, sturdy, closed-toed shoes. Night hikes are always held, weather permitting. Lubbock Lake Landmark, 2401 Landmark Drive; 8 p.m.





August 21….Solar Eclipse Viewing Party - Did you know that a total solar eclipse will be visible in parts of the United States on Monday? On an arching diagonal line from South Carolina to Oregon, many cities will experience a 100%, or total solar eclipse for a few minutes. Lubbock will experience a 78% max eclipse, when the Moon passes between the Earth and the Sun during daylight hours and partially blocks or shades the Sun's light from reaching us. Locally, the eclipse will begin at 11:30 am, peak with max coverage at 12:57pm, and then conclude at 2:26pm. The Science Spectrum will be celebrating this amazing astronomical event by holding a *Free public Solar Eclipse Viewing Party on Monday, August 21st from 11 a.m. to 2 p.m. on its front lawn and in the lobby.
Free Activities at the Solar Eclipse Viewing Party will include:
• Hands-on space science activities and experiment stations
• Solar System and eclipse crafts
• **Safe Solar Eclipse viewings with special helmets and optical projections
• Live streaming of the eclipse from locations experiencing a total eclipse
• Mini planetarium shows in the Science Spectrum's portable digital planetarium, the SpaceBubble
• Refreshments and fun music!
Never look directly at the Sun or a solar eclipse without approved solar viewing glasses or helmets!
Additionally, the OMNI Theater will be offering special discounted screenings of the film Solar Max in the OMNI Theater at 11 a.m. and 2 p.m. on this day for only $5.00 per person. Solar Max is the story of humankind's journey to understand the Sun and how we relate to it, from the earliest civilizations to today. Using modern space exploration technology, we have just now begun to understand this closest star to our world. Like how every 11 years it violently erupts in an event know as a solar maximum. Solar Max is being shown at the OMNI Theater from Aug. 4th to Oct. 5th, but will be discounted this one day only. Solar Eclipse Viewing Party activities on the Science Spectrum front lawn and in the lobby are Free to the public, but Museum and OMNI Theater admission ticket rates still apply. Safe Solar Eclipse viewing glasses are available for purchase now, and will also be available on the day of the event in the Science Spectrum's Gift Shop for $2.15 each including tax. For those not wishing to purchase their own pair of eclipse viewing glasses, free options using helmets and optical projections will be available during the event.
Museum OR OMNI Theater General Admission Ticket Rates:
$8.00 Adults; $6.50 Children (ages 3-12)
$6.50 Seniors (60+)
Free for children 2 and under
Science Spectrum, 2579 S. Loop 289