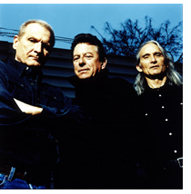 September 16….The Flatlanders: Joe Ely, Jimmie Dale Gilmore & Butch Hancock - The legendary Lubbock troubadours - The Flatlanders - comprised of Joe Ely, Jimmie Dale Gilmore and Butch Hancock - return to the Cactus stage for a truly historic night. From their earliest days together in the early '70s - and the landmark recordings of "Dallas" and "Tonight I Think I'm Gonna Go Downtown" - to their more recent releases in the new millennium, this trio has earned its rightful place in music history. Don't miss this epic night of celebration as we play host - and toast - these hometown heroes!Advance, reserved floor seats $35, reserved balcony seats $30; all seats priced $35 on the day of show. Please contact the box office at 806-762-3233 from 3:00 - 5:30 p.m. Monday-Thursday (3:00 p.m. to showtime on scheduled performance dates) or purchase online 24/7 at cactustheater.com. Cactus Theater, 1812 Buddy Holly Avenue; 7:30 p.m.





September 16 - 18 (Repeats Sept. 23-25)…. LCT Presents: Once Upon a Mattress - If you thought you knew the story of "The Princess and The Pea", you may be in for a walloping surprise! Did you know, for instance, that Princess Winnifred actually swam a moat to reach Prince Dauntless the Drab? Or that Lady Larkin's love for Sir Harry provided a rather compelling reason that she reach the bridal altar post haste? Or that, in fact, it wasn't the pea at all that caused the princess a sleepless night? Carried on a wave of wonderful songs, by turns hilarious and raucous, romantic and melodic, this rolling spin on the familiar classic of royal courtship and comeuppance provides for some side-splitting shenanigans. Chances are you'll never look at fairy tales quite the same way again. Tony Nomination for Best Musical, Best Leading Actress in a Musical with Carol Burnett as Winnifred, Tony Award for Best Revival of a Musical with Sarah Jessica Parker as Winnifred. Musical Comedy Rated: G. Music by Mary Rodgers. Book by Jay Thompson, Dean Fuller, and Marshall Barer Lyrics by Marshall Barer. You can purchase your tickets on-line at lubbockcommunitytheatre.org or by calling the office at (806) 749-2416. Lubbock Community Theatre, 4230 Boston Avenue; Friday and Saturday: 7:30 p.m.; Sunday: 2 p.m.


Many more listings can be seen by clicking the "Calendar" tab at the top of this page!









September 17 ….Lubbock Downtown Farmer's Market - Held each Saturday, June through October, this unique gathering of area producers, specialty food and beverage providers and select artisans specializing in homegrown or homemade. Held in the Depot District area, this weekly event has become a highlight of the summer months and offers something for everyone. Support your local growers and be part of the "locally produced" movement. Open at 9 a.m...produce available until vendors sell out! Tornado Gallery,1822 Buddy Holly Ave; 9 a.m.




September 17 – November 12
The Maize at At'l Do Farms – Lots of fun awaits you at the Atldo Farms Corn Maize as they celebrate their 16th season. This year's maize features Quanah Parker. Admission is $10 (4 & under are free) and includes maze or kid maze, hayride to pumpkin patch, hayride to Pumpkin Hollow after dark, cow train, corn cannon (3 shots) and barnyard. With military or college ID - $2 off, senior citizen - $2 off, group rates: $8. The regular maze can be a little overwhelming so they have created a special trail through the corn for families with younger kids. Along the journey you will be reading story boards of "Young Quanah & The Rabbit". It will be a fun adventure! Take a hayride out to the patch, stroll through the vines and pick your perfect pumpkin. Many varieties to choose from. Prices range from $1-$20. Hayride to pick pumpkins stops at dusk. As soon as the sun sets each evening the hayride to Pumpkin Hollow begins! There are over 150 carved pumpkins with designs from Disney characters, Star Wars, Peanut Characters, Famous people, and American theme and much more. New pumpkin designs this fall created by Eileen Martha. Come see the illuminated pumpkins by the harvest night sky. The Windmill Grill & Bakery will be open and serving up Maze favorites such as brisket , regular sausage and jalepeno sausage wraps, hamburger/cheeseburger, Frito pie, fresh Apple Blossom, gourmet brownie, homemade pumpkin bread, frozen treats, spiced cider, hot chocolate, refreshing drinks and our famous corn suckers. You can also reserve campfires - $30( Call for reservation- 763-5594). Horse rides - $5 (Saturday & Sunday until dusk). The At'l Do Farms Corn MAiZE is located 3/4 of a mile west of Frankford Ave (FM 2528) on FM 1294. GPS address: 6323 FM 1294 Lubbock 79415 (you must enter the zip!); Closed Mondays. Open Tuesdays- Fridays 6 – 9 p.m., Saturdays 10 a.m.- 9 p.m., Sundays 2 – 9 p.m. and By Reservation: Tuesday- Thursday 9 a.m.- 3 p.m.( school field trips).