October 27….Dueling Pianos: Kirk Garrett & Rich Wyman - They're returning! This is the Top-rated Dueling Pianos Show in America, filling venues nightly nationwide. This hilarious, high-energy audience-interactive show is all-request - engaging the audience from the first note. The talented and witty performers, Kirk Garrett and Rich Wyman, engross audience members and make them part of the show. This is not grandma's piano bar....but a rave-up, non-stop night of fun for all! Show up expecting to clap your hands, stomp your feet, and sing your lungs out. Though they tour across the U.S., these guys don't pass through this region very often....so get your tickets for this special booking now! Purchase tickets by visiting cactustheater.com or call 762-3233. Cactus Theater, 1812 Buddy Holly Ave; Doors open at 6:30; show at 7:30 pm.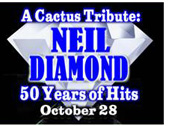 October 28….A Cactus Tribute: Neil Diamond…50 Years of Hits - One of the most successful solo music careers of all-time - was launched in 1966 with the release of the Neil Diamond song "Solitary Man". Prior to that, his career had centered around writing songs that became hits for others...including "I'm A Believer" for The Monkees. But soon, hits like "Cherry Cherry", "Kentucky Woman" and "Thank the Lord For the Night Time" followed. Through five decades now, Neil Diamond has solidified his place in history as one of the most beloved artists of all time....selling well over 100 million albums and continuing to sell out arenas coast to coast. His songs "America" and "Sweet Caroline" are instantly recognizable and have become anthems in their own right. Join the Cactus as we present our tribute to one of the most popular and enduring artists as we present our tribute to the one and only Neil Diamond in this ALL NEW, original music tribute, Friday, October 28. You'll hear his greatest hits...songs like "I Am...I Said", "Song Sung Blue", "Kentucky Woman" and many more. Vocalists include Kenny Maines, Jason Fellers, Craig Elliott, Jeff Bailey and Amber Pennington. Reserved floor seats $20; standard balcony $15. Purchase tickets by visiting cactustheater.com or call 762-3233. Cactus Theater, 1812 Buddy Holly Ave; Doors open at 6:30; show at 7:30 pm.





October 28 - 30….LCT Presents: Dr. Jekyll & Mr. Hyde - A new and shocking version of Robert Louis Stevenson's classic tale of depravity, lust, love and horror. On the fog-bound streets of Victorian-era London, Henry Jekyll's experiments with exotic "powders and tinctures" have brought forth his other self—Edward Hyde, a sensualist and villain free to commit the sins Jekyll is too civilized to comprehend. When Hyde meets a woman who stirs his interest, Jekyll fears for her life and decides to end his experiments. But Hyde has other ideas, and so the two sides battle each other in a deadly game of cat-and-mouse to determine who shall be the master and who his slave. With multiple Hyde's portrayed by members of the cast. From the novella "Strange Cast of Dr. Jekyll and Mr. Hyde" by Robert Lewis Stevenson. Adapted by Jeffrey Hatcher. Directed by Jay C. Brown. Classic horror story: Rated: PG-13. You can purchase your tickets on-line at lubbockcommunitytheatre.org or by calling the office at (806) 749-2416. Lubbock Community Theatre, 4230 Boston Avenue; Friday and Saturday: 7:30 p.m.; Sunday: 2 p.m.










October 28 - 29…..Second Annual Caprock Jazz Festival - The Roots Historical Arts Council will be hosting the Second Annual Caprock Jazz Festival. The two-day festival will bring to the Lubbock Memorial Civic Center stage some of the top names in the jazz world, including living legends and Grammy award winners, Ramsey Lewis and Earl Klugh. The event will also feature international jazz stars, Jonathan Butler, Tom Braxton and Arlington Jones. The festival will also feature up-and-coming jazz bands, Fingerprints, Muzikology and Native. Featured vocalists Shawana Kirk and Sunday Best finalist, Sheena Fadeyi-Flores will also highlight the festival. The festival's organizers will also present the Lifetime Achievement Award, to local music icon, saxophonist Don Caldwell and will officially initiate a petition drive to have JT Braxton and his son Tom simultaneously inducted into the 2017. Buddy Holly Walk of Fame. Festival tickets can be purchased online or at any Select-A-Seat location. One-day passes are $50; two-day passes for $75. For more info and events schedule go to www.caprockjazzfestival.com. Proceeds will benefit the Caviel Museum of African American History. Lubbock Memorial Civic Theater, 1501 Mac Davis Ln; 7 p.m.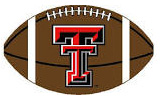 October 29….GIANT Screen Football: Texas Tech Red Raiders vs TCU Horned Frogs - Join us for a FREE SCREENING of the Texas Tech at TCU Big XII football game as we again offer fans the chance to see the game on our new, GIANT screen in the Cactus Theater. The concession stand and Cactus cantina will be available for your enjoyment. For this game, there is no ticket or voucher required - we simply invite fans to see the game on the big screen with us. Seating will be general admission for this event....so sit wherever you'd like on the floor (balcony will only be opened if needed). We're excited to have this brand new screen in place and the highest-quality, digital, laser projection in town! Cactus Theater, 1812 Buddy Holly Ave; Doors open 6:30 p.m; game screened at 7 p.m..




October – November 12
The Maize at At'l Do Farms – Lots of fun awaits you at the Atldo Farms Corn Maize as they celebrate their 16th season. This year's maize features Quanah Parker. Admission is $10 (4 & under are free) and includes maze or kid maze, hayride to pumpkin patch, hayride to Pumpkin Hollow after dark, cow train, corn cannon (3 shots) and barnyard. With military or college ID - $2 off, senior citizen - $2 off, group rates: $8. The regular maze can be a little overwhelming so they have created a special trail through the corn for families with younger kids. Along the journey you will be reading story boards of "Young Quanah & The Rabbit". It will be a fun adventure! Take a hayride out to the patch, stroll through the vines and pick your perfect pumpkin. Many varieties to choose from. Prices range from $1-$20. Hayride to pick pumpkins stops at dusk. As soon as the sun sets each evening the hayride to Pumpkin Hollow begins! There are over 150 carved pumpkins with designs from Disney characters, Star Wars, Peanut Characters, Famous people, and American theme and much more. New pumpkin designs this fall created by Eileen Martha. Come see the illuminated pumpkins by the harvest night sky. The Windmill Grill & Bakery will be open and serving up Maze favorites such as brisket , regular sausage and jalepeno sausage wraps, hamburger/cheeseburger, Frito pie, fresh Apple Blossom, gourmet brownie, homemade pumpkin bread, frozen treats, spiced cider, hot chocolate, refreshing drinks and our famous corn suckers. You can also reserve campfires - $30( Call for reservation- 763-5594). Horse rides - $5 (Saturday & Sunday until dusk). The At'l Do Farms Corn MAiZE is located 3/4 of a mile west of Frankford Ave (FM 2528) on FM 1294. GPS address: 6323 FM 1294 Lubbock 79415 (you must enter the zip!); Closed Mondays. Open Tuesdays- Fridays 6 – 9 p.m., Saturdays 10 a.m.- 9 p.m., Sundays 2 – 9 p.m. and By Reservation: Tuesday- Thursday 9 a.m.- 3 p.m.( school field trips).


Many more listings can be seen by clicking the "Calendar" tab at the top of this page!